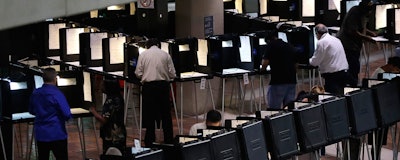 WASHINGTON (AP) — President Donald Trump has warned that if Democrats regain political power in the midterm elections, the U.S. economy would essentially implode.
Democrats, he insists, would push tax hikes and environmental restrictions that stifle growth. Undocumented immigrants would steal jobs and unleash a crime wave that would halt commerce. Health insurance would devolve into a socialist program offering shoddy care at unsustainable cost.
"At stake in this election," Trump declared at a rally in Houston, "is whether we continue the extraordinary prosperity that we've all achieved or whether we let the radical Democrat mob take a giant wrecking ball and destroy our country and our economy."
Almost no private economist agrees with Trump's portrait of a financial apocalypse.
If Democrats win control of the House in next week's congressional elections, their legislative priorities wouldn't likely much alter a $20 trillion economy. For one thing, Trump would remain able to block Democratic initiatives — just as they could stop his plans for more tax cuts and a 5 percent cut to Cabinet department budgets.
What instead would likely result is continued gridlock — perhaps even more entrenched than what exists now in Washington. Arrayed against a stout Republican majority in the Senate, a Democratic House majority couldn't do much to reorder the economy, which typically hinges more on the willingness of consumers and businesses to spend and on the state of the global economy than on government policy priorities.
"It's probably not that much of a change," Beth Ann Bovino, chief U.S. economist at S&P Global, said of the likely outcome. "While you might see further gridlock if the Democrats take the House, that doesn't mean it would tip the boat and slow growth."
Many polls and analyses suggest — though hardly assure — that the Democrats could regain a majority in the House if their voters turn out in sufficient numbers in key races. If so, Trump would have to contend with a divided government instead of one with Republicans in complete control. Yet depending on voter turnout, it's also possible that the Republicans could maintain their hold on both the House and the Senate.
Analysts at Goldman Sachs and Morgan Stanley foresee a divided government as most probable. So do their peers at Oxford Economics and Keefe Bruyette & Woods.
"The most likely political consequences would be an increase in investigations and uncertainty surrounding fiscal deadlines," Goldman Sachs concluded in a client note.
Oxford Economics' senior economist, Nancy Vanden Houten, has suggested that the Republicans' legislative agenda would stall if they lost the House.
"A Democrat-controlled House would, in our view, be a line of defense against further tax cuts, reduced entitlement spending and efforts to repeal the Affordable Care Act," she said
The economy has enjoyed an acceleration in growth this year — to a gain estimated to be 3 percent after deficit-funded tax cuts. Unemployment is at a 49-year low of 3.7 percent, and employers continue to post a record number of jobs openings. The economic expansion is already the second-longest on record.
But annual growth is widely expected to dip back to its long-term average of near 2 percent by 2020. It's even possible that the economy could slip into a recession within a few years as growth inevitably stalls — for reasons unrelated to who controls the White House or Congress. A global slowdown could, for example, spill over into the United States. Or higher interest rates, spurred by the Federal Reserve, might depress economic activity.
Trump would still have plenty of discretion on some key economic issues. His trade war with China and his drive to reduce regulations are two of them. The president has managed to pursue those priorities without Congress' involvement, though his updated trade agreement with Canada and Mexico would need congressional approval.
"Trade stuff is being done administratively; regulatory stuff is being done administratively," said Douglas Holtz-Eakin, president of the right-of-center American Action Forum. "There's just not that much on the table legislatively."
In an appearance this month at Harvard University, the House Democratic leader, Nancy Pelosi, outlined her agenda should her party regain the chamber's majority and she the speakership.
Within the first 100 days, Pelosi said, she would seek to reduce the influence of large campaign donors and groups that aren't legally required to disclose their funding sources. She would also push for infrastructure funding — to rebuild roadways, rail stations or airports, for example — and seek protections for undocumented immigrants who came to the United States as children, among other priorities.
Any such initiatives, though, could be blocked by a Republican Senate — or by Trump.
Budget and deficit issues will also surface after the election. Congress will likely need to raise the government's debt limit and approve spending packages before October 2019. And mandatory government spending caps are set to kick in for the 2020 fiscal year after having been suspended for two years. Those spending limits could dampen economic growth.
Lewis Alexander, chief U.S. economist at Nomura, said Republicans might renew their focus on reducing the national debt, after having approved tax cuts last year that swelled annual budget deficits by $1.5 trillion over the next decade.
Alexander noted that shrinking the deficit has historically become a higher priority when competing parties have controlled the White House and Congress. If the government seeks to pare the deficit, it could possibly slow the economy, which in the past year has been fueled in part by government spending.
It's likely Trump would blame Democrats if growth falters, just as he might absorb criticism for his economic stewardship as Democratic presidential campaigns accelerate into a higher gear.
The hostile rhetoric makes it unlikely that Democrats and Republicans would join to pass any meaningful legislation for the economy, such as for infrastructure rebuilding.
"The way parties are talking about it right now, I don't think anybody is dying to cooperate," said Michael Madowitz, chief economist at the Center for American Progress, a liberal think tank.
Still, if Democrats regain the House, the president might feel pressure to produce some tangible legislative results ahead of his own quest for re-election in 2020.
"Trump is the wild card here," said Jason Rosenstock, a financial industry lobbyist with Thorn Run Partners. "He may want to be seen as a deal-cutter going into the 2020 election."