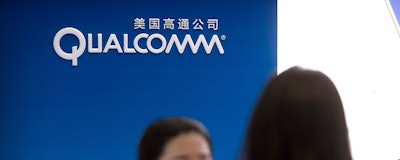 NEW YORK (AP) — Qualcomm is buying back $16 billion of its own stock as part of a broader goal of repurchasing up to $30 billion of its shares.
Shares of Qualcomm Inc. rose $1.45, or 2 percent, to $73.20, before the opening bell Thursday. The stock is up about 10 percent this year.
The telecommunications equipment company, based in San Diego, said it expects to buy back an initial 178 million shares from Bank of America, Citibank, and Morgan Stanley & Co. The final figure will be determined during the transaction.
The company said it is on track to complete the majority of its broader repurchase program by the end of fiscal 2019.