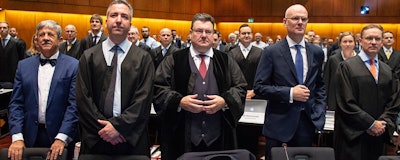 FRANKFURT, Germany (AP) — Trial proceedings have begun against Volkswagen on behalf of investors alleging the company did not give them timely notice of its scandal over cars rigged to cheat on diesel emissions tests.
Investors are seeking almost 9 billion euros ($10.4 billion), saying Volkswagen didn't give them the information they needed to decide what to do with their shares before the scandal became public. The U.S. Environmental Protection agency accused Volkswagen in September 2015 of manipulating diesel emissions, sending the shares sharply lower.
The case opening Monday in front of the higher regional court in Braunschweig involves claims from investors that will serve as a model for further cases, the dpa news agency reported.
The company says it met its duty to inform investors in time.