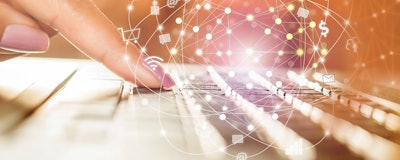 For legacy businesses, there may be a disconnect from how a digitized supply chain will improve the bottom line. In fact, IBM reports that 84 percent of manufacturers polled in a recent survey say that they have implemented real-time data sharing into their supply chains, but only 13 percent have done so effectively. So how can supply chain management close the gap between implementation and optimization?
In the relatively early stages of supply chain digitization, the ongoing transformation of our industrial supply chain is hardly the first large scale disruption to sweep through the business world. If we look back through history, every generation has seen major upheaval driven by technology—the railroad, the telephone, the automobile, the television, and now the internet. What's different about today's modernization is its unprecedented speed, enabled by new tools that act faster than human beings. Done well, this digitization has the potential to turn the supply chain into a strategic profit driver, woven deep within the fabric of every competitive business.
We've witnessed first-hand, organizations are rethinking their approach to supply chain planning by integrating several individual phases of the process into one full circle system. Planning is historically siloed, with separate work streams for inventory, demand, and transportation. Slowly we are beginning to see planning take place across these areas simultaneously. The breaking down of these walls are enabled by the integration of emerging technology, including but not limited to:
Artificial Intelligence (AI)/Big Data – Aggregation and analysis of massive amounts of data to identify and respond to trends in customer demand
Advanced Robotics and machine learning – Modern warehouse management, plus "non-physical" robotics, like database tools for deeper trend analysis that can help predict the future
Automation/3D printing – Delivering custom service that meets the most specific, time-sensitive customer demands
The implementation of emerging technologies leads to satisfillment among fulfillment center employees and end consumers alike. In this case, satisfillment is when simple processes make the headaches of e-commerce a thing of the past. At Project Verte, this is our goal - new supply chain technology is one component of a full circle experience for e-commerce businesses. With a digitized supply chain, companies are empowered to better serve customers and exceed expectations, ultimately reaching satisfillment. Early adopters are enthusiastic about these new tools, but the rest of the world still grapples with how to begin integrating more technology into their systems. Many are just beginning to experiment and run pilot programs—mostly the big businesses and agile start-ups, while most, not all, mid-sized companies are eagerly watching.
The journey may seem daunting, so we recommend the following steps to make it more manageable:
Focus on long-term value: Before embarking on this journey, have an honest conversation with board members to outline how the investment in digitization will add value.
Mitigate employee fears: Digitization doesn't always lead to job loss. In fact, these new technologies have the potential to upskill employees for the long term.
Don't reinvent the wheel: Tap into specialized partners who have the institutionalized knowledge and assets to help implement your new business solutions.
Set manageable goals: Business transformation can take time. Break up the integration into manageable stages and regularly review what is working to ensure the process is on track.
The digitization of the supply chain is indicative of a much more profound trend—the disruption of the business model. Organizations today who are facing a transformation have much different considerations than they might have had five years ago. Start digitizing because the sidelines are no place for business.
Neil Ackerman is the senior director of global supply chain advanced planning for Johnson & Johnson and advisor for Project Verte.