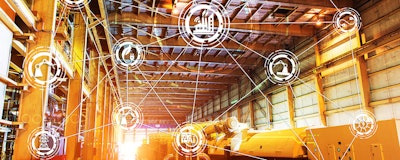 Sixty percent of global manufacturers will use analytic data recorded from embedded devices to optimize manufacturing and supply-chain operations by 2021, according to market intelligence firm IDC. That's because small, inexpensive computing hardware (such as low-cost wireless radios and sensors) can wirelessly monitor and transmit data instantly on the state of any machine.
In fact, with the perpetual mandate to cut costs, operate more efficiently, achieve greater visibility into processes and minimize supply-chain risk, all manufacturers should begin investing in IoT technologies—if they aren't doing so already.
IoT's many benefits can transform your business and set you apart from your competitors. There are risks, to be sure, but they can be mitigated so long as the project is carefully and deliberately managed. Fortunately, that's what competitive manufacturers are already good at.
First, let's take a look at the value the IoT can bring to your manufacturing floor, where seamless operations depend on reliably functioning machinery.
Increase Visibility and Simplify Operations
Smart industrial appliances can help increase visibility and simplify business operations:
Increase visibility — With smart sensors, businesses can monitor important assets at every stage of the supply chain and report this information to a centralized database.
Simplify operations — Businesses can use smart sensors to locate and assess inventory levels.
Predictive Maintenance Capabilities Can Mitigate Disruptions
Furthermore, manufacturers can eliminate error-prone service inspections with IoT technology. For example, smart sensors can anticipate problems before they become larger issues by relaying real-time analytics on a machine's performance. Data collected from a machine, such as current or vibration, combined with real-time alerts allows manufacturers to engage in predictive maintenance, minimizing disruptions and work stoppages, which in turn increases asset utilization and mitigates the risk of missed deadlines, increases in production costs and reputational damage.
In this scenario, best practices call for integrating a wireless connectivity module (Cellular or Wi-Fi-enabled, aka a smart sensor) that can communicate the status of the machine and its parts to humans on a cloud-based interface. These connectivity modules can also send and receive over-the-air (OTA) software updates even after the device has been deployed.
A use case such as the one described above can yield the following benefits:
Enhanced data management and accurate information on the status of each machine, enabling better decision-making on labor, sales, and the supply chain.
Improved visibility into the status of the fleet.
Increased asset utilization and reduced maintenance/overhead costs.
Greater energy efficiency by identifying poorly performing parts and devices.
How to Start Your IoT Journey
As mentioned earlier, risks abound when implementing new technologies and systems—and it's especially true with IoT solutions. Here are four precautions to take as you begin your project:
No. 1 - Define the business benefit
Make sure you have a problem to solve, and that an IoT mechanism is the way to solve it. Manufacturers are already seeing greater operational efficiencies and cost savings in the following use cases:
Remote monitoring across the supply chain to optimize fleet operations.
Environmental and safety compliance reporting via tracking, monitoring, data reporting and analytics.
Asset tracking from the supplier to the production line.
Automatic fulfillment based on utilization-rate tracking.
No. 2 - Start small with an eye toward scalability
Identify a minor project that could result in a short-term payoff as well as insights on how to build on it. Hire a consultant to help scope the project, and assign a dedicated project manager to lead it. Then, you can think about larger projects, using lessons learned from the first one to gauge how to gather additional resources and organizational commitment. Eventually, you'll be able to forecast your network and storage needs to a production-sized deployment.
No. 3 - Test, test and test some more
The only way IoT technology can succeed is by ensuring there are no points of failure. That means you need to constantly make sure you are able to detect coding problems and catch bugs early as you develop your embedded systems, sensors, microcontrollers and mobile apps.
No. 4 - Choose the right platform and partner
Nobody needs to be reminded that significant technology investments require pinpoint planning and strategy. Careful, dedicated research will reveal the IoT partner best suited to deliver an optimal framework and the platform that can grow with your business. Make sure your vendor can deliver the right hardware, connectivity, device management and security measures that can handle your needs now while successfully integrating with future technologies.
It's All About Achieving a Competitive Advantage
There's no denying that IoT projects require a high level of expertise in hardware, software, security and app development. But they're more than worth the effort and commitment: A connected factory offers significantly greater flexibility, efficiencies and cost savings while delivering exceptional visibility into maintenance and operations.
That's the type of competitive advantage no manufacturer can overlook.
Dan Jamieson is general manager of enterprise IoT platforms at Particle.