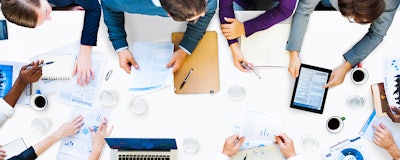 Manufacturing revenue leaders look to emerging strategies that will address their new go-to-customer mandate. Three overarching themes emerge in weighing customer solutions against next-generation growth expectations: (1) investing in data and technology, (2) establishing new skills training and talent for the sales team, and (3) utilizing sales enablement tools to professionalize sales force effectiveness.
THEME 1: Investing in data and technology.
Investments in data and technology allow manufacturing sales teams to better understand their customers and develop and sell solutions that solve customer problems. Increasingly, organizations are investing in marketing analytics in a sales operations function that use data to support the sales process.
Some manufacturing organizations have a "needs-based" segmentation approach that looks to categorize (and align sales resources) based on the customers' needs. Because not everyone in a specific vertical may think the same way, sales leaders are using this new approach to better align solutions with customers' problems.
Though a somewhat familiar concept, leaders are greatly expanding the use of sales specialists. Leveraging both product and vertical specialist roles ensures the right clients receive customized expertise and solutions that uniquely fit their needs.
Finally, leaders are implementing customer success teams. New in the manufacturing space, high-tech and software companies have perfected these roles over the past decade. They are involved in the revenue generating process but focus primarily on gathering data, sharing insights and helping to show value. The insights provided by this team not only provide value to the customer, but also support proposal development and upsell or cross-sell opportunities.
THEME 2: Establishing the right skill sets and organization structure to address the complex needs of customers.
Manufacturing sales organizations are doubling down on investment in skills training for the sales team. The evolution of buyer behavior creates many instances where multiple influencers and decision-makers are involved in the sales process. Sales leaders are spending time and resources to ensure traditional "feature-benefit" sales representatives understand and succeed with these new dynamics.
Another point to note is the emergence of strategic account teams at manufacturing sales organizations. These dedicated teams support a traditional strategic account/key account seller. Though somewhat expensive, these agile and dedicated teams have demonstrated results in helping the strategic account seller cross-sell the entire suite.
Sales leaders are also sourcing talent for these strategic account roles from non-traditional places; including consulting firms; high tech industry; and academia, especially economics and finance.
THEME 3: Utilizing sales enablement tools to improve sales force effectiveness despite many companies' "do more with less" policy.
If a sales organization wants to have generalists who can sell everything, then representatives need support with tools to understand where the best opportunities are and where to focus their time. One manufacturing company has developed a lead scoring tool that helps to identify the most promising leads based on a variety of variables, including characteristics associated with prior win/loss.
CRM is no longer an option, but CRM implementation remains a challenge. Companies are driving CRM adoption by requiring leadership's usage in reporting, through incentive plan holdbacks and through accountability at regular meetings (e.g., quarterly business review).
Regardless of the CRM system, it is essential to customize the sales process to each unique sales team. Out-of-the-box solutions are doomed to fail.
As manufacturing firms wrestle with the new go-to-customer mandate, winning companies are focusing on a few strategies now that will go a long way in meeting customers' needs and reaching future growth expectations.
Kyle Uebelhor is a principal focusing on the manufacturing and distribution practices at the Alexander Group.