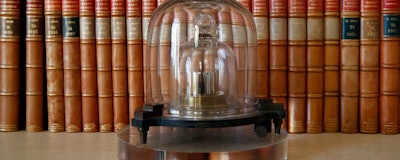 VERSAILLES, France (AP) — In a historic vote, nations on Friday unanimously approved a ground-breaking overhaul to the international system of measurements that underpins global trade and other vital human endeavors, uniting together behind new scientific definitions for the kilogram and other units in a way that they have failed to do on so many other issues.
Scientists, for whom the update represents decades of work, clapped, cheered and even wept as the 50-plus nations gathered in Versailles, west of Paris, one by one said "yes" or "oui" to the change, hailed as a revolution for how humanity measures and quantifies its world.
The redefinition of the kilogram, the globally approved unit of mass, was the mostly hotly anticipated change. For more than a century, the kilogram has been defined as the mass of a cylinder of platinum-iridium alloy kept in a high-security vault in France. That artefact, nicknamed "Le Grand K," has been the world's sole true kilogram since 1889.
But now, with the vote, the kilogram and all of the other main measurement units will be defined using numerical values that fit handily onto a wallet card. Those numbers were read to the national delegates before they voted.
Scientists at the meeting were giddy with excitement: some even sported tattoos on their forearms that celebrated the science.
Nobel prize winner William Phillips called the update "the greatest revolution in measurement since the French revolution," which ushered in the metric system of meters and kilograms.
Jon Pratt of the U.S. National Institute of Standards and Technology said the vote left him "a basket case" and "extremely emotional."
"Those units, those constants chosen now, include everything we know, everything we have always known and provide that springboard for us to go pursue those things that we don't know," he said. "That was just leaving me in a puddle of tears."
The Grand K and its six official copies, kept together in the same safe on the edge of Paris and collectively known as the "heir and the spares," will be retired but not forgotten. Scientists want to keep studying them to see whether their masses decay over time.
The change will have no discernable impact for most people. Bathroom scales won't suddenly get kinder and kilos and grams won't change in supermarkets.
But the new formula-based definition of the kilogram will have multiple advantages over the precision-crafted metal lump that set the standard from the 19th century to the 21st, through periods of stunning human achievement and stunning follies, including two world wars.
Unlike a physical object, the new formula for the kilo, now also known as "the electric kilo," cannot pick up particles of dust, decay with time or be dropped and damaged.
It is expected to be more accurate when measuring very, very small or very, very large masses and help usher in new innovations in science, industry, climate study and other fields.
With time, as the science behind the new definition becomes more accessible and affordable, it should also mean that countries won't have to send their own kilograms back to France to be checked occasionally against Le Grand K, as they have done until now, to see whether their mass was still accurate.