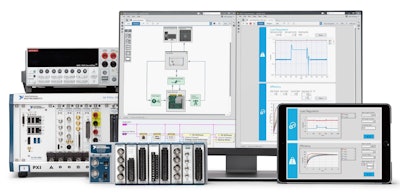 NI (Austin, TX) has released LabVIEW NXG, an updated version of LabVIEW engineering system design software that introduces key functionality and benefits for engineers developing, deploying and managing automated test and measurement systems. This release introduces the WebVI, a VI type for building web-based user interfaces (UIs) that can be deployed to any web browser – PC, tablet or phone – with no plug-ins or installers. Additionally, to reduce hardware configuration time, the new SystemDesigner feature automatically discovers connected hardware, displays installed drivers and directly links to available NI and third-party instrument drivers if they are not yet installed. Additional features include:
Expanded hardware support.
Programming capabilities, such as object-oriented programming and integration with the TestStand test management software.
The ability to be used with existing LabVIEW applications without the need for extensive software refactoring — engineers can reuse test code, including code written with LabVIEW NXG or LabVIEW, through a new package manager interface built on industry-standard package formats.
For more information, visit www.ni.com/labviewnxg.