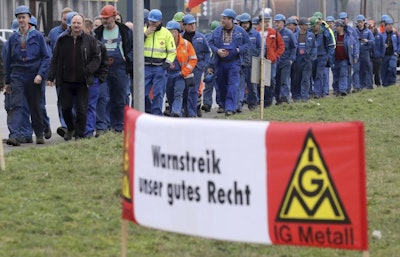 Germany's largest industrial union says tens of thousands of factory workers have staged short-term warning strikes to increase pressure on employers amid wage negotiations.
The IG Metall union said Wednesday that 170,000 workers at 785 businesses across the country went on hours-long strikes at companies like Audi, Bosch, Airbus and Mercedes.
The union has been staging warning strikes this month as it seeks a 6 percent pay increase for some 3.9 million workers in talks with employers. It also wants employees to be able to reduce work weeks from 35 to 28 hours for up to two years with a guarantee they can return to regular hours.
Employers are offering a 2 percent rise and want the right to negotiate with employees about working more hours if they agree.