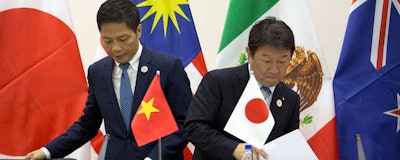 TOKYO (AP) — Leaders of countries in a Pacific Rim trade pact rejected by President Donald Trump are welcoming progress on a final agreement to press ahead without U.S., saying it shows a resolve against protectionism.
The accord reached in Tokyo this week clears the way for possibly signing a Trans-Pacific Partnership deal by early March, officials said Wednesday.
It comes at a time when the Trump administration is upping pressure on trading partners over perceived violations of fair trade rules. Soon after taking office a year ago, Trump followed through on his pledge to pull out from the TPP, which was championed by President Barack Obama's administration as a way to ensure American influence over the way trade rules are set in this century.
The Tokyo agreement among the 11 remaining TPP member countries follows a basic pact reached after tough negotiations at a regional forum in Danang, Vietnam, in November.
During those talks, members agreed to revise the name of the trade pact to the Comprehensive and Progressive Trans-Pacific Partnership, or CPTPP. Apart from Japan, it includes Australia, Brunei, Canada, Chile, Malaysia, Mexico, New Zealand, Peru, Singapore and Vietnam.
Canadian Prime Minister Justin Trudeau told a meeting at the World Economic Forum global summit in the Swiss Alps that the new deal shows TPP members are pushing back against protectionism.
"If we are going to push back against the anti-trade tendency in globalization that will leave us all worse off, we have to put the concerns and the well-being of our ordinary citizens at the center of what we are negotiating, and that is what 11 of us have been able to do with the CPTPP," Trudeau said during a televised panel discussion.
"We are also very much open to more trade deals involving more people as long as it is in the best benefit of all of our citizens," said Trudeau, whose government has sought various changes in the new trade pact.
According to Japanese media reports nearly two-dozen stipulations sought by the U.S. in the original TPP deal were shelved after Washington withdrew. Some members sought easier terms on labor rights and state-owned companies, but it's unclear how far the changes will go in watering down what was proclaimed by the Obama administration to be a "gold standard" for 21st century trade rules.
Australian Prime Minister Malcolm Turnbull told reporters in Brisbane the revised deal would bring billions of dollars in additional exports and thousands of additional jobs.
Despite difficulties after Trump announced he would pull out of TPP, "we stuck with it. And with great support and great leadership with the countries in the TPP 11, especially of course Japan ... we look forward to the legal documents, the treaty being signed in Chile," Turnbull said.
New Zealand Prime Minister Jacinda Ardern likewise said it was a step toward finalizing an agreement.
Japan's top trade negotiator, Toshimitsu Motegi, said he hoped to expand the membership of the TPP and encourage a U.S. return to the pact.
The U.S. departure left the other 11 members bereft of the agreement's $12 trillion anchor consumer market. The current membership includes nearly 14 percent of world GDP, down from nearly 40 percent with U.S. participation.
The aim, eventually, was to create a "free trade area" of the Asia-Pacific region that might rival the EU in scope. Trump has said he prefers bilateral agreements, while many countries in this region have pushed ahead with their own various deals, some bilateral and others regional.