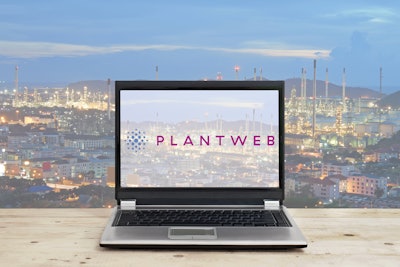 Emerson (Austin, TX) offers their expanded Plantweb digital ecosystem, a scalable portfolio of standards-based hardware, software, intelligent devices and services for securely implementing the Industrial Internet of Things. Features and capabilities include:
Secure process control, safety and asset management systems.
Pervasive Sensing that includes a non-intrusive temperature sensor and new technologies in the areas of corrosion detection, medium voltage electrical protection and hazardous gas leak detection.
The Secure First Mile set of architectural approaches and designs that allow customers to selectively connect highly secure data from protected control and operation systems in the cloud environment. The portfolio includes a family of security services and flexible servers, gateways and data diodes.
Plantweb InsightSoftware applications with analytics for monitoring asset health. They can be deployed as a single asset class and scale to a wide range of assets.
Plantweb Advisor Software with integrated analytical applications for asset health, performance modeling and facility-wide energy optimization.
The Always Mobile platform that enables mobile access to role-based tools, analytics and dashboards.
An Industrial IoT-enabled cloud service offering real-time monitoring.
Standardized on the cloud-based Microsoft Azure IoT Suite.