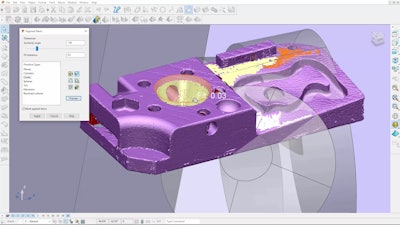 Autodesk offers its 2017 Computer Aided Manufacturing (CAM) products for applications that include CNC, mill and lathe-programming, as well as complex mold and die manufacturing. Combining Delcam's history in CAM with Autodesk's 3D design and manufacturing experience, new features include:
Enhanced versions of FeatureCAM for automating CNC programming for mills, turning machines and EDMs. The update also entails programming capabilities for dual-path Swiss-type lathes, the ability to import and view product and manufacturing information directly from a model and access to functionality that allows pre-drilling when using Vortex toolpaths.
PartMaker for precision part manufacturing with Swiss-type lathes.
PowerMill for designing complex molds, dies and other components. The latest version offers more efficient 3D offset finishing toolpaths, greater simulation controls and constraint-based logic. For the first time, PowerMill also provides strategies for 5-axis mill-turn machines.
PowerShape for the design of 3D complex parts, including shading to identify areas that can't be machined with 3-axis machining alone, a new rib capping tool that allows EDM users to automatically create surfaces in order to stop cutting tools from machining slots that will be produced by EDM, and a PowerShape electrode wizard for improved EDM hardware integration.
PowerInspect hardware-independent inspection software now supports portable measuring equipment, CMMs and on-machine verification. Additionally, the ViewCube feature offers inspection results, reports and images faster and easier, and a dedicated point-cloud single point item provides an easier way to evaluate target points from laser scan data.