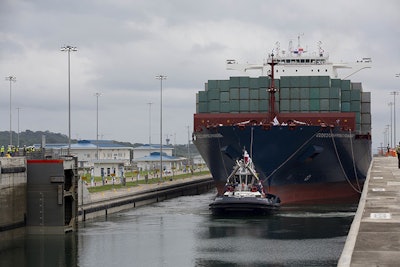 According to a report from the Associated Press, a Chinese container ship scraped against the wall of the newly expanded Panama Canal.
The accident left a large gash in the ship, while the canal wall only showed slight damage.
Despite the relatively minor incident, this first accident highlights early safety warnings that the canal's new dimensions are too small for larger vessels to maneuver.
In fact, a joint study by the International Transport Workers' Federation and Brazil's Fundação Homem de Mar said that windy conditions would make accidents more likely because of the lock's narrow dimensions.
The new locks measure in at 1,400 feet long and 180 feet wide, which means that the largest vessels (measuring in at around 1,200 feet long and 160 feet wide) will have less than 20 feet of width and 200 feet lengthwise of space. However, this additional space is oftentimes lost because of the tugboats used to guide the ships through the lock on either side.
The Panama Canal's $5.25 billion expansion began almost a decade ago and has been online for about a month.
Do you think this accident is the first of many more scrapes and bruises to come in the newly inaugurated Panama Canal?
Comment below or tweet me @AbbDean.