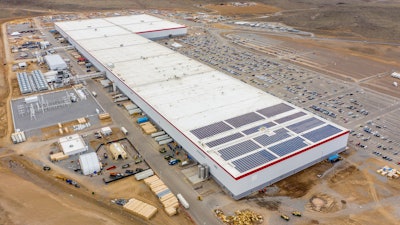 iStock
Tesla and Panasonic are reportedly in talks to bolster battery production at the Nevada "Gigafactory" a year after questions about demand prompted them to table expansion discussions.
Panasonic CFO Hirokazu Umeda, during a briefing on the Japanese electronic giant's latest financial results, told reporters that the company is "seeing strong demand from Tesla" and that the factory's current capacity of 35 gigawatt-hours per year was insufficient to meet it.
Tesla used Panasonic batteries to power some of its earliest electric vehicles and later named the company its exclusive battery partner as they jointly built the first Gigafactory in the desert outside Reno. But the relationship grew tense in recent years as Tesla dramatically increased production and moved to diversify its battery sourcing. Tesla dropped Panasonic as its exclusive supplier, while Panasonic bowed out of a Tesla solar-panel factory in New York.
Last spring, the companies reportedly froze plans to increase the Nevada factory's capacity by more than 50% in order to evaluate market conditions and maximize current spending.
Tesla, however, posted a record-setting 2019 and a surprising first-quarter profit despite the economic downturn sparked by the coronavirus pandemic. In addition, the Gigafactory became profitable for the first time late last year.
Umeda, according to Reuters, also told reporters that the companies would be working on new battery technologies in coming months. Tesla CEO Elon Musk reportedly hopes to debut a novel battery that could last for millions of miles and bring the cost of electric vehicles in line with gasoline-powered cars.
Panasonic's overall profit for the first quarter, however, dropped nearly 30% as the COVID-19 outbreak forced factories to close and disrupted its supply chains.