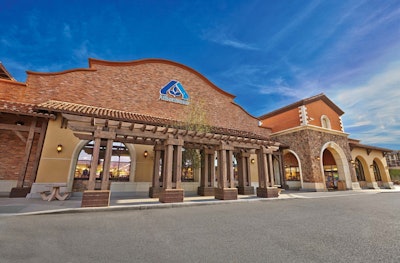 Albertsons Companies, one of the largest food and drug retailers in the United States, is joining the blockchain-based IBM Food Trust network and will begin piloting the technology to improve how food is traced from farm to store shelf. The Food Trust ecosystem is now comprised of more than 80 brands that include suppliers, producers and retailers.
Blockchain is a system of record that establishes a shared environment for food transactions in which all participants can collaborate in a highly secured and transparent way to build trust. Food Trust enables network members to share digital, distributed and immutable data, so that stakeholders across the supply chain can work together to trace and authenticate products or optimize supply chain processes. The solution creates a digital record of transactions or interactions – from a packaging date, to the temperature at which an item was shipped, to its arrival on a grocery shelf.
The growing number of participants using the technology helps address a broad range of food system issues, such as supply chain efficiency, freshness, waste reduction, sustainability and participants' ability to verify certifications, such as fair trade and organic. It is being used to make the end-to-end food ecosystem more transparent and trustworthy, Currently, more than five million food products digitized on the solution are on retail shelves.
Albertsons Companies, which operates nearly 2,300 stores across the U.S., will pilot Food Trust for tracing bulk romaine lettuce from one of its distribution centers, then will explore expanding to other food categories throughout its distribution network. Albertsons Companies plans to pilot the solution to help overcome the obstacles that have existed when a traceback is initiated for a product like romaine and is evaluating ways to use the technology to highlight the provenance of its extensive Own Brands portfolio.
A blockchain network is strongest when it includes multiple, diverse members that form a transacting ecosystem. That is why the solution can enable an ecosystem of companies from across the food industry to onboard and share data. Already, members are recommending or mandating that their supply chain partners, such as downstream suppliers, join the network.
This is intended to bring a more complete view of the entire lifecycle of a food product. Built on Hyperledger Fabric-based open source technology, the solution uses permissioning to ensure companies can set rules about who can see the data they upload to the solution and for how long, and that they maintain control of their data even after it has been uploaded to Food Trust.