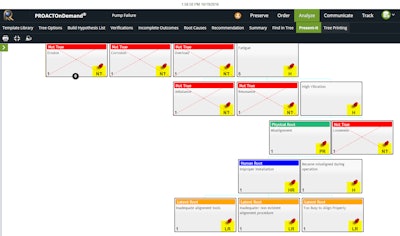 RCI (Hopewell, VA), a Reliability Consulting firm specializing in Equipment, Process, Human Performance, Safety and Environmental Root Cause Analysis (RCA) investigations, has announced the launch of the PROACTOnDemand V2, Software-as-a-Service (SaaS). This solution accommodates most common RCA methods such as 5Y's, Fishbone Diagrams, Cause & Effect, Form Based and Logic Tree, and it's all rendered in real time. Features include:
Syncing & Saving – Interviews, images, and verification of failures can all be uploaded to your PROACT RCA dashboard to share with your team members.

A built-in PROACT Guide, so you can use anywhere within your analysis for next step guidance.

RCA Severity Matrix, RCA Set-up Wizard and RCA Report Wizard.
An administrator dashboard to assign team members permissions (read/write, read only, delete), assign new team members and customize various drop down menus.

Completed published analyses that automatically become searchable templates in the database. Over 300 published PROACT templates are included for searching and incorporation into an existing RCA.

Perform custom searches with key words, previous suggestions, parts, people and more.

No Lawyers, IT departments, or software required.
The ability to access PROACTOnDemand anytime through mobile devices, PC and MAC using Google Chrome Browser integrity and security.
Secured purchasing, data & code authenticity.
PROACT Logic Tree Knowledge Management Templates are included with purchase. The templates database houses completed logic trees specific to industrial, and is drilled down to the REAL root causes of the undesirable events.
www.reliability.com/proact-ondemand-rca-online.html; 800-457-0645