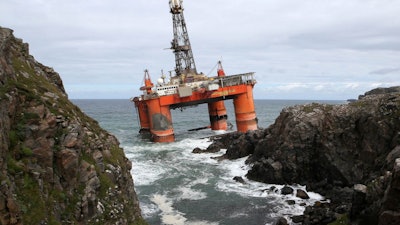 The massive Transocean Winner oil rig that ran aground on a remote Scottish shore has now been towed off the rocky coast by two tug boats.
According to The Guardian, the small boats have towed the 19,000-ton rig "safely off the rocks" to access the vessel's condition. The mission to refloat the stranded rig was successful, in part, because the salvage team took advantage of high water levels.
On August 8, over two weeks ago, the 19,000-ton Transocean Winner oil rig was blown onto a remote Scottish shore during a severe storm.
According to the BBC, the rig carrying 280 metric tons of diesel broke free from a tugboat transporting it to Malta from Norway.
The Associated Press reports that most of the fuel aboard the rig evaporated during the two-week period, while the rest was transferred to a supply vessel over the weekend.
Why do you think it took so long to refloat the stranded oil rig?
Comment below or tweet me @AbbDean.