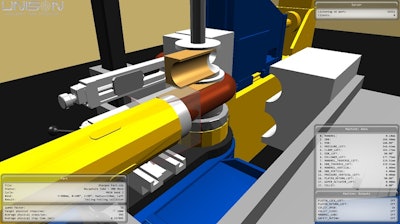 New software from Unison (Asheville NC) manages the tube bending process from programming to production. Its latest software tools package, Version 11.3, provides progress in three areas: simulation, machine programming flexibility, and data collection. The resulting optimization and versatility will help tubular part manufacturers boost productivity. New features include:

Opt2Sim 3D Simulator
Accelerates development of control programs for all-electric tube bending machines.
Re-engineered design for total compatibility and accuracy of simulation.
The same embedded code that the machine runs on, which ensures that the simulator always performs in the same manner as the machine, even as new machine control software features are added.
Simulation of additional tubular profiles, such as square and rectangular.
Enables fully-validated bending programs to be created entirely off-line.
Suitable for any machine in the company's Breeze range of all-electric tube benders.
The ability to avoid and verify a range of problem scenarios, including collisions between tube and machine, tube and tooling, tube and the surrounding environment, or the tube hitting itself.
The ability to select the exact position to view any collision - to make problems easy to understand and resolve.
Unibend.Machine Programming & Control
Speed enhancements to both the bending and material handling elements of tubular part programs.
New bend cycle software that improves speed by ~5%.
A new TEACH function gives users access to the underlying machine code for handling parts, allowing machine operation to be micro-managed for additional efficiencies.
The TEACH feature can also optimize speed of operation by controlling individual and multiple axis movements, including the use of synchronized, parallel movements of multiple axes. Or, it can be used to slow movement, decreasing axis speed or inserting pauses or stops.
Finer control over the profile motion of the important carriage feed and follower axes, users can choose to use up to 10 different movement speeds at ~10 different points on any bend.
Database & Data Collection
Collects, stores, and transmits comprehensive information on machine usage, such as detailed information on machine actions including start and stop times of bend sequences.
Collects machine diagnostics information, including any error notifications, alarms, and emergency stops.
Info available over the Ethernet network for local and remote monitoring, and for connection to an enterprise's material requirements planning (MRP) software.
For more information, visit www.unisonltd.com, or call 828-771-0850.