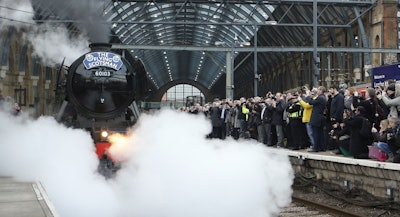 The Flying Scotsman — which underwent a nearly $6 million renovation — made its first journey today between London's King Cross Station and York, where it will reside at the National Railway Museum.
The trip, however, was not without a hitch. Excited crowds on the tracks delayed the train, leading Rail magazine editor Nigel Harris — one of about 300 aboard the train — to call the event "rampant trespass by mindless hordes," according to The Guardian.
Another passenger was 83-year-old Ron Kennedy, who drove the train for seven years before its retirement. "It's unbelievable," said Kennedy. "I never dreamt about being on it again."
Built in 1923, the steam locomotive earned legendary status when it became the first (officially recorded) locomotive to break the 100 mile-per-hour barrier in 1934.
Earning the name "Flying Scotsman" at the 1924 British Empire Exhibition, the locomotive also became the first-ever to provide a nonstop eight-hour trip between London and Edinburgh.
The train was retired in 1963 and spent a few years on a tour circuit. In 2004, the National Railway Museum kicked off the Flying Scotsman's restoration campaign, and two years later, the Riley & Son workshop took the project on. Part of the process was restoring the train's widely recognized "green apple" livery.
As of today, the train has put on about 2.5 million miles.
"It has taken years of hard work to get this far and it is incredibly satisfying to see the most famous locomotive in the world back on track, steaming up the East Coast Mainline," said Paul Kirckman, National Railway Museum director.
With this trip completed, the Flying Scotsman has set yet another record as the oldest working locomotive on Britain's mainline.