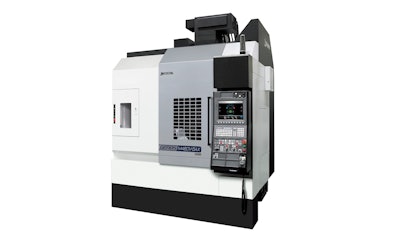 Okuma America (Charlotte, NC) offers their 5-axis, GENOS M460V-5AX vertical machining center, which combines 5-axis simultaneous control with cast iron, double-column construction and a high-speed spindle. These features give the machine the ability to cut more complex parts and exotic metals. According to the company, additional features include:
The spindle motor design produces less vibration and power loss at the tool tip.

High precision ball screws generate smoother linear guide movement in allowing for better control of the machining process.

A hypoid gear drive helps improve accuracy, rigidity and table rotation speed.
An open architecture machine control is PC-based and allows for customization.