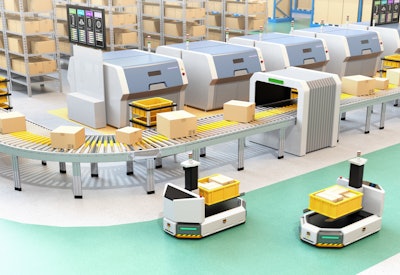 Manufacturers have long embraced the concept of continuous improvement and innovation. In that spirit, what better way to kick off 2019 than by looking to see what the next year has in store for manufacturing.
Over the past few years, it has been impossible to escape headlines about the Industrial Internet of Things (IIoT)/Industry 4.0. New models for technology-enabled manufacturing have already moved into the implementation phase at many of the world's top manufacturers. Integrating data and analytics from production equipment with design, engineering and continuous improvement in manufacturing leads to faster optimization of production and new product design. But let's get more specific.
Here are three ideas to consider as you lay out priorities and plans for the year ahead.
Analytics with Real Time Data
Data transparency helps manufacturers improve quality and customer satisfaction. Streamlining audit and regulatory burdens, enhancing the accuracy and accessibility of track and trace data, and ensuring quality from raw materials to packaging – all of these critical benefits come from collecting and integrating data in real time, at scale.
Another aspect is delivery data. Today, when you buy products on Amazon, you go online, order a product and receive an expected delivery date. If there's any delay, they let you know of the change. Retail shoppers have grown to love tracking their packages online. Unfortunately, it doesn't usually work that way in manufacturing. The ability to see where the product is in the line and when it's going to ship would be huge.
Over the past five years, new IIoT technology and the cloud have led to the development of a modern Manufacturing Execution Systems (MES) that can track and consolidate critical manufacturing data in real time, delivering new levels of visibility across the global supply chain. This provides supply chain managers and operations executives with access to a digital factory floor via laptop, with a real-time view into status at product, workstation, production floor, plant, regional and global levels.
This real-time visibility not only empowers executives with a clear understanding of what's happening in their factories, it also instills a greater sense of accountability among workers to address developing conditions before they are automatically escalated to factory management.
Regulatory Scrutiny Will Drive Quality Improvement
Automotive and medical devices have become highly sophisticated in both functionality and manufacturing complexity. They must meet strict compliance requirements, with manufacturers having to track every component, piece of manufacturing equipment, and operator action for every device serial number, throughout the manufacturing process.
Emerging developments in manufacturing systems, machine-to-machine (M2M) communications and the cloud are helping to efficiently "mistake proof" complex production processes, preventing some of the most common causes of manufacturing errors.
In an increasing number of factories now, all equipment, materials and operator actions are scanned via bar code systems connected to the cloud MES platform, enforcing compliance at every step. This ensures the highest level of quality and predictability because processes are pre-programmed. Replication in the cloud validates all activity, ensuring compliance. If a product fails an inspection or a test, it is routed out of the main process flow and repaired. It is then reinserted back at the point before the failure occurred to ensure it passes the test it originally failed.
Several companies have now connected some or all their manufacturing equipment to a local or cloud network. This includes bar code scanners and label printers at individual workstations and operator badge scanning. With this connectivity and the right programming, these smart manufacturing systems, and the data running through them, result in a "forced quality framework" that eliminates some of the most common production errors.
Warehouses Grow Automation to Improve Productivity
Large electronics manufacturers may build thousands of products, such as printed circuit board assemblies, every hour. Keeping surface mount technology (SMT) lines fed with components is critical. Running out of materials triggers immediate downtime, hurting productivity, and resulting in significant financial impact to the manufacturer.
Traditionally, technicians would monitor SMT equipment to see when materials are running low. Now, companies are implementing closed loop systems to ensure all required components are delivered to production at the right time — leveraging cloud-based MES solutions, M2M connectivity and Machine-to-Human communication.
In some factories we work with, an SMT machine automatically sends a signal to the MES when a component needs to be replenished; the MES in turn forwards it to the automated warehouse system. The system prioritizes the order, and the operator locates the component in the warehouse and triggers the replenishment procedure in the inventory management system.
The component is then placed at a collection station and an autonomous guided vehicle (AGV) collects and transports it to the SMT line where it is needed. When the AGV leaves the stockroom, the technician is alerted via text so that he or she is ready at the SMT line to load the material when it arrives at SMT line. This sort of process, relatively simple when the right data connections are in place, minimizes downtime and enables "automated backflushing" of components for better materials and inventory management.
Finding the Right Fit
For many manufacturers, change equals risk. Disruption in their supply chain or factories can cost millions, and also impact a brand or a company's reputation. Given this, many manufacturers are understandably reluctant to embrace far-reaching changes to their traditional industrial infrastructure and processes. However, manufacturers can start down this path by resetting expectations and asking their personnel to think differently.
With the three examples described above, we've seen the power of new, but now proven manufacturing systems. This technology has been implemented by some companies already, and presents an opportunity for others in 2019.
Srivats Ramaswami is CTO at 42Q, has worked at both OEM's and contract manufacturers for many years, most recently as vice president of IT Operations.