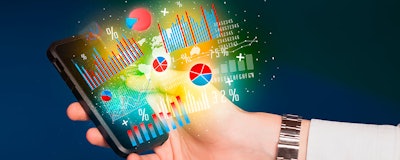 For manufacturers around the world, every holiday season that comes and goes proves to increase production rates—and it shows no signs of diminishing thanks to the ubiquity of the mobile-first mindset. In fact, production increased by two percent in November 2018. Manufacturers, in particular, are focused on achieving success on the back-end with seamless fulfillment operations during the heavy traffic holiday season.
This time of year can be very hectic for enterprises, reinforcing the need to keep all operations organized and connected. From point-of-sale and e-commerce conversions to handling logistics of order fulfillment, enterprises must lean on an integrated enterprise mobility infrastructure to ease the nuances that the holiday shopping season brings.
Let's explore the multi-faceted role that mobility solutions play for enterprise manufacturers during this busy time of year and beyond:
Hyperconnected Mobile Moments Drive Sales
As consumers continue to lean on their mobile devices to either make or complete purchasing decisions, the sales number are reflective their actions. This Cyber Monday, for example, broke U.S. sales records topping $7.9 billion dollars and according to Adobe, almost 40 percent of online purchases made this holiday season were either by smartphone or a tablet.
This rise in holiday sales can be seen through mobile usage and adoption rates—a 3.9 percent conversion rate for smartphone purchases and a 6.6 percent for tablets to be exact. The surge in mobile usage ultimately results in a crowded supply chain and inflation in production. From the warehouse to product fulfillment, it's important for companies to remain organized this time of year in all operations.
The bottom line: Having a supported enterprise mobility partner can help facilitate this high traffic time of year. Warehousing floors are bogged down with holiday orders while shipping and logistics must be fine-tuned to ensure all orders are fulfilled on time. Having supported mobility throughout the entire operation chain can help alleviate stress levels that come about during the holiday season, and allow operations to run smoothly.
The Impact of EMM
With an uptick in production and order fulfillment, many companies tend to incur process inefficiencies - and this could be a result of a lack of end-to-end mobile solutions that enables faster innovation and shorter production cycles.
Manufacturers who employ enterprise mobility management (or EMM) are able to mitigate errors and increase plant efficiency. As more and more companies bring in mobile devices on an enterprise level, it is crucial to have support and organization across all devices.
When viewed from a performance perspective, enterprise mobile management can assist with potential technical issues before they have an enterprise-wide effect. For example, if a particular device-and-operating system combination has shown faults and application failures, EMM can alert and perhaps resolve these issues before critical business failure. In this example, the knowledge isolated from one part of the organization's mobile experience can benefit other parts of the enterprise as well. Preventive intervention can reduce downtime for the entire mobile ecosystem.
EMM allows all enterprise operations to become integrated and, in turn, more agile due to the anytime, anywhere accessibility of mobility. This can streamline all aspects of the holiday season—from production to supply chain and fulfillment. Managed Mobility service providers offer unique flexibility to manufacturers through the ability to consolidate all mobile devices and device data. This equates to a transparent view of enterprise mobile functions with real-time insights and analytics into how devices, users and applications are performing.
By offering full lifecycle support across a wide array of device manufacturers, mobility providers can give manufacturers a new level of flexibility. Over the busy holiday season, companies should to an established partner to help streamline plant operations. With the introduction of bring-your-own-device (BYOD), there are even more moving parts for manufacturers to be in control of. Between the backlog of orders to securing an entire fleet of mobile devices, manufacturers should see enterprise mobility management as a clear solution. This allows for a more connected operational structure to free up staff to manage the heavy flow of fulfilling holiday orders.
Marco Nielsen is VP of Managed Mobility Services at Stratix.