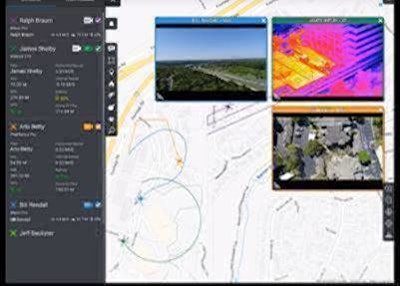 Drone software management platforms are becoming more specialized and more useful for specific industries. And all of this new technology means companies can get jobs done faster, at reduced costs and safer than ever before.
The true advantage to drone management platforms is their high level of collaboration. This is easily seen with Aerial Applications, a drone platform that affords industrial cell tower managers a more specialized and real-time collaboration business workflow.
The platform has the ability to collect data on multiple cell towers in real-time, but show that information in a virtual environment. This virtual environment eliminates the need to store data on a server. A map-based system provides access to all the data specific to one cell tower or wind turbine, and it is immediately updated with repair information, environmental data, 3D renderings, etc. This is all immediately available for each asset by clicking on the tower displayed in the map section of the platform.
Inspectors often have to climb 600' – 1,200' towers that may have faulty safety line anchors or damaged ladders. Having a drone to review the tower prior to a climb makes every assent safer – and in many cases the footage from the drone may show the tower is in perfect working order and doesn't require a long and dangerous climb. By implementing the Aerial Applications platform technicians and executives alike know the date of inspection and condition of the tower.
DroneSense created a similar platform, but goes beyond just inspection software. It's specifically designed for public safety professionals. Their software allows fire departments and law enforcement to have complete control of the drones, pilots, missions and reporting, and it's all automatically updated in real time.
All data is shared between everyone that is logged into the system, from pilots to agents on the ground to supervisors in the ops center coordinating the mission. It also provides transparency and 'public insurance' by immediately updating each pilot by name, rank and certification. Flight paths are also recorded and can be shared easily with the public. The software can also provide asset management in preparing for each mission or assessing performance and preparedness afterwards.
Going beyond industrial and public service applications, a new software management provider from Seattle is turning drones into forestry and land reclamation experts. DroneSeed is the world's first FAA-approved drone platform that uses a swarm of drones to autonomously plant and provide water for trees. It can even monitor their growth in helping commercial foresters make reforestation more efficient.
Offering a one-stop solution, a team of drones also plants tree seeds and sprays fertilizer and herbicides. Today, millions of acres of forestland are currently under-utilized. The availability of dependable workers, and the safety concerns of rough terrain prevent trees from being properly planted and maintained. DroneSeed could be a scalable solution that's safer and more efficient than current strategies.
It's software management platforms like these that have the potential to change not only the future of industrial equipment, but the public's perspectives on drones. By developing technology that supports critical assets, we're building a stronger foundation for our modern society.