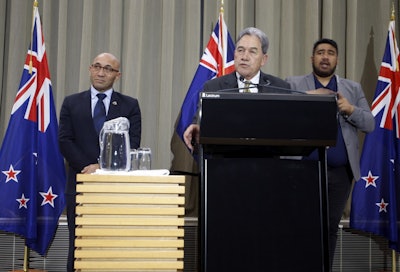 New Zealand is buying four Boeing maritime patrol planes from the U.S. to replace aging aircraft, Defense Minister Ron Mark said Monday.
The planes will cost 2.35 billion New Zealand dollars ($1.6 billion), including training systems, infrastructure and other associated costs, he said.
It will take delivery of the planes and begin operations from 2023 and will pay for the planes and infrastructure over a number of years.
"Maintaining a maritime patrol capability is essential for New Zealand, for national security and for our ability to contribute to global security efforts," Mark said.
The P8-A Poseidon planes will replace six aging Orion patrol planes operated by the Royal New Zealand Air Force.
Mark said the purchase allowed New Zealand to tap into the billions of dollars in research that had been poured into the planes, and that flying the same aircraft as military counterparts in Canada, the U.S. and Australia would be a huge advantage.
Boeing says the planes are designed for long-range anti-submarine warfare and anti-surface warfare, as well as intelligence, surveillance and reconnaissance missions.
New Zealand is part of the "Five Eyes" intelligence-sharing alliance that also includes the U.S., Canada, Australia and Britain.
Mark said one operation the planes could help carry out would be to gather high-quality images and intelligence on illegal fishing that takes place in the Southern Ocean. He said New Zealand could use the information to help prosecute offenders in international courts.
The purchase comes at a time that New Zealand has expressed concerns about China acting more confidently and assertively in pursuing its interests in Asia.
In a strategic defense policy statement released by Mark last week, New Zealand said China was modernizing its military and growing its capabilities in a reflection of the nation's economic might and growing leadership ambitions. It said that New Zealand faced "compounding challenges of a scope and magnitude not previously seen in our neighborhood."