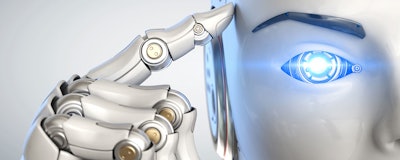 Robotic Process Automation (RPA) is hot. Once exclusively the domain of large enterprises with highly disciplined IT resources, RPA is going into the mainstream. Manufacturers should be asking themselves what RPA can do for them, and where's the ROI.
RPA describes a software development toolkit that allows non-engineers to quickly create software robots (commonly known as "bots") to automate rules-driven business processes by replacing human effort to complete tasks. Software bots mimic human activities such as logging into IT systems and copying and pasting data across systems. RPA generally requires minimum integration with the existing IT setup, unlike other automation solutions.
Organizations with repetitive, labor-intensive processes can potentially boost productivity, and save time and money with RPA. This has put it top-of-mind with IT departments and business executives evaluating how technology can enhance efficiencies alongside other business initiatives such as outsourcing and shared service centers.
According to Craig Le Clair, an analyst at Forrester, RPA market growth is exceeding greater than a 50 percent Compound Annual Growth Rate and will reach $2.8 billion in five years. In a recent survey of 500 senior decision makers, 77 percent believe RPA will drive productivity through the automation of mundane, transactional tasks. In the same survey, 56 percent indicated they are planning to use RPA to free up staff, allowing them to focus on higher value work.
Pure-play RPA vendors are flooding the airwaves with a good amount of hype. As the old adage goes: If you're a hammer, everything looks like a nail. However, it's important to recognize, there are many technologies and offerings to meet a broad spectrum of business needs and requirements.
Let's break things down. Every organization has a series of tasks, events, and decisions that move work from start to completion through business processes. To date, RPA has found its place in automating tasks, but not in automating processes. For example, an image capture system is used to minimize data entry and let the software find the data on documents and input it into a form or system. This can be seen as type of RPA. But automatic data entry in and of itself is not a process—it's only the beginning of a process.
While RPA deals with discreet, repetitive tasks, other automation approaches, such as Business Process Automation (BPA) are holistic approaches to optimize and automate business processes. BPA is end-to-end, so while RPA can be part of a BPA approach, it can't—in and of itself—replace BPA. It can, however, play a role in automating repetitive tasks which kick off the start of a process and can play a role in a larger automation/improvement strategy, alongside other automation approaches.
Additionally, by uniting content, human intervention and workflows, Enterprise Content Management streamlines the backend workings of an organization to support better employee experiences, which in turn enables those employees to support smarter, more responsive customer interactions. Bots may best humans in faster and cheaper task completion, but until further notice, the human and technology equation is still essential to support the modern customer-centric enterprise.
So, is there a role for RPA in manufacturing moving forward and where can it add value?
There are many places and spaces in the manufacturing enterprise where it is necessary to perform repetitive tasks quickly and where human error can create downstream issues, downtime, additional costs and rework.
Checking for errors in order entry, validating invoices against purchase orders, marking purchase orders as complete, and verifying Bill of Material builds, are all examples of activities which are vital to manufacturing operations, and where RPA is ideally suited.
This elimination of human error carries a strong value proposition for manufacturing, which has been shown to be more susceptible to costly unplanned downtime stemming from human error than other industries. In a study done by Vanson Bourne in 2017, it was found that 23 percent of all unplanned downtime in manufacturing was the result of human error, compared with rates as low as nine percent in other sectors.
One bonus of RPA is that unlike other automation tools, the technology doesn't require operator intervention and/or training. It is programmed to operate in the background, quietly carrying out manufacturing execution check sums. This means its return-on-investment can be realized without user adoption or proficiency.
Perhaps most compelling is the value in leveraging RPA alongside other complementary automation technologies. For example, an enterprise content management platform with embedded RPA can provide an elegant link to integrate and automate interactions among systems—without the need for costly or arduous integration. As such, it's been heralded for its ability to simplify the liberation and activation of documents or content from legacy systems—often one of the greatest barriers to digital transformation.
We have seen this first-hand and the ROI for manufacturers is clear. An enterprise content management platform with embedded RPA reduces costs, and improves processes, productivity, quality and customer service by reducing human errors.
Tom Franceski is vice president and general manager of DocStar a division of Epicor Software Corporation.