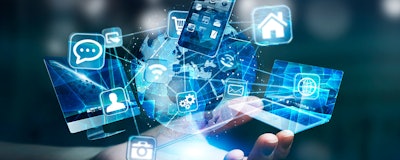 Transformation is a constant for manufacturing companies. Since the 1990s, manufacturers have been looking at process automation and techniques, such as lean manufacturing, to enhance their business. In the early 2000s, their focus shifted to make manufacturing processes more responsive by integrating automation in the supply chain. The most recent transformation effort is to build intelligence into business processes—so each industrial manufacturer becomes an intelligent enterprise.
To achieve this, manufacturers must utilize intelligent machines and leverage sensor data as well as external data to drive operational decisions. It also means ensuring the brand experience is consistent across channels and that organizations have visibility into the consumer's interactions with the brand. In addition, going beyond basic automation by applying machine learning algorithms and industry cloud solutions to improve performance and efficiency will be critical.
An April 2018 commissioned study, conducted by Forrester Consulting on behalf of SAP, found that 88 percent of innovative manufacturers have started or completed their digital transformation, compared to 54 percent of other companies. Those manufacturers that considered themselves to be innovative rated themselves highly across the board for innovation in strategy, technology, people, process and culture. According to MIT Sloan Management Review, companies with 50 percent of revenues from digital ecosystems achieve 32 percent higher revenue growth and 27 percent higher profit margin. It's clear that digital transformation is achieving real business value for manufacturing companies.
Industrial manufacturers can further realize opportunity in two areas: topline revenue growth through better, more intelligent and differentiated products, and bottom-line cost savings through more efficient and effective innovative processes using the digital capabilities of the equipment they implement.
Manufacturers need to be vigilant as digitalization opens the playing field for companies that are not traditional manufacturers. This means that manufacturers may have to team up with technology experts outside of the industry to address obstacles. To be ready for these challenges, it is essential for industrial manufacturers to focus on the five strategic priorities to drive digitalization and become an intelligent enterprise:
Customer centricity – Putting the end customers' point of view at the center of every decision is critical for success in the digital age. This does not only apply to the sales department, but should also apply to what products are built and what services are offered.
Serving the "segment of one" – Providing solutions that precisely fit the needs of one single customer has been commonplace in traditional engineer-to-order environments. Now that same level of personalization has to be applied to everyone in a cost-effective way. This requires the ability to capture customer requirements effectively and enable mass customization to give customers exactly what they want.
Digital smart products – Differentiation and specificity in products stems from the digital capabilities and value-added services that are bundled with physical products. Delivering and using digital capabilities, like self-awareness of technical health and operational status or business system connectivity, helps industrial manufacturers differentiate themselves.
Digital supply chain and smart factory – Digital technology on the shop floor and in the supply chain is not new. What is new is the way that production and logistics can be intelligently connected to the rest of the business and are able to deal with external impulses, like short-term demand and supply fluctuations or changes in the configuration of a customer order on the fly.
Servitization and new business models – As traditional products are commoditized, IM&C companies are shifting from selling products to providing complete solutions, like charging for outcomes or even monetizing asset data. Generating more revenue from services is a goal for manufacturers who are looking for higher profit margins and increased customer intimacy.
Digital transformation can be a daunting task for manufacturers, but it's important they view digitization as an ongoing journey that evolves over time. Companies must also understand the long-term benefits of operating intelligently, like improved efficiency and enhanced products. Collaborating with experts outside of the industry is also important to provide manufacturers with a holistic view. Manufacturing companies that can quickly spot digital gaps and respond quickly will stay ahead of the competition.
Judy Cubiss is Global Marketing Lead of Automotive and Industrial Machinery & Components at SAP.