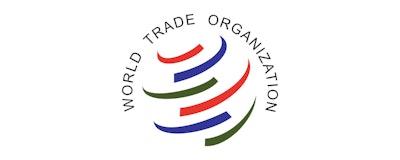 OTTAWA, Ontario (AP) — Canada's trade minister said Thursday a small group from the World Trade Organization hope to persuade the U.S. and China to save the body.
Neither China nor the U.S. took part in a meeting in Ottawa on the future of the WTO.
Canadian International Trade Minister Jim Carr said the WTO needs renewal and it will be impossible without support from China and the U.S.
Thirteen of the WTO's 164 members talked in Ottawa about safeguarding and strengthening the dispute settlement system, improving the efficiency and effectiveness of the monitoring function and modernizing trade rules.
The U.S. has openly blocked appointments of new judges to the WTO's dispute settlement mechanism, which threatens to paralyze the organization and prevent it from making decisions.
The WTO is one of a long list of international organizations and agreements derided by U.S. President Donald Trump. Trump's top economic adviser, Larry Kudlow, has at times branded the WTO as ineffective and simply broken.
"The United States has said that they're not happy with the WTO, there are issues over which the United States has significant control, but this was a positive discussion about where we ought to go from here," Carr said.
The U.S. has also imposed tariffs on goods including steel and aluminum from many countries, including longtime allies like the European Union and Canada. And it has engaged in an escalating dispute with China, which it accuses of unfairly requiring foreign companies to share technology if they want to access its markets.
Canada invited Australia, Brazil, Chile, the European Union, Japan, Kenya, South Korea, Mexico, New Zealand, Norway, Singapore and Switzerland to two days of talks.
Speaking in Winnipeg, Canadian Foreign Affairs Minister Chrystia Freeland said Thursday the government believed talks would be easier without the U.S. and China in the room
Prime Minister Justin Trudeau has spoken in recent days with Japanese Prime Minister Shinzo Abe and Argentine President Mauricio Macri about rules-based trade.