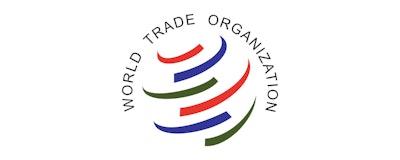 GENEVA (AP) — The World Trade Organization says its dispute settlement body will take up China's request to be allowed to impose sanctions against the United States for failing to abide by a WTO ruling on anti-dumping measures.
WTO director-general Roberto Azevedo said in a note Tuesday that a hearing is expected Sept. 21 into the case, which originated with a Chinese challenge in December 2013 of over 40 U.S. anti-dumping rulings against Chinese goods.
Next week's session follows a May 2017 ruling largely in favor of China by the WTO's appellate body, which China says the U.S. has failed to honor.
The case centers on U.S. trade limits on Chinese products that the U.S. says are sold below market value. They include steel, coated paper, off-road tires, solar cells and diamond saw blades.