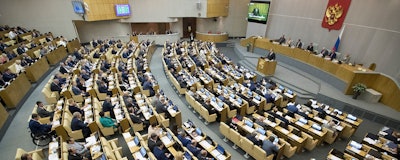 MOSCOW (AP) — Russia's parliament on Tuesday adopted a wide-ranging bill that could freeze crucial exports to the United States and imports to Russia from the U.S. and other countries.
The bill, drafted by leading lawmakers at the State Duma in response to the latest round of U.S. sanctions, lays out a wide range of restrictions for U.S. businesses in Russia and for cooperation with the U.S. Among other things, the bill allows the Russian president to "ban or suspend cooperation with a hostile state" and ban imports of goods from unnamed countries.
The original bill proposed specific restrictions to U.S. imports including drugs as well as banning crucial exports, such as titanium, to the U.S. But lawmakers toned it down to get rid of references to specific restrictions before adopting the bill.
Many lawmakers who backed the bill on Tuesday portrayed it as a warning to the West against further sanctions on Russia.
"Everyone who wants to impose these restrictions on our rights and on our citizens needs to understand that Russia will respond to this," lawmaker Andrei Isayev said speaking of Western sanctions.
Russia has been slapped with a flurry of sanctions relating to its annexation of Ukraine's Crimea in 2014, support for separatists in eastern Ukraine and the suspected meddling in the 2016 U.S. elections.