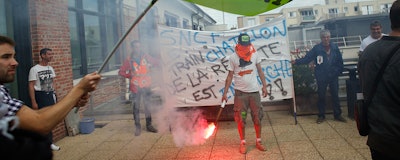 PARIS — French public services workers have gone on strike as part of their protest a government plan to cut 120,000 jobs by 2022.
In a joint call, nine unions are also seeking higher wages and are denouncing the increasing use of short-term contracts in public services.
This is the third nationwide strike of public workers since French president Emmanuel Macron came into power last May. In his campaign for the presidency, Macron promised to reduce public spending and overhaul the country's labor laws.
Hundreds of flights to and from France have also been canceled as French air traffic controllers have joined the movement.
The government is in discussions with unions about the plans and has said it intends to legislate on its labor reforms next year.