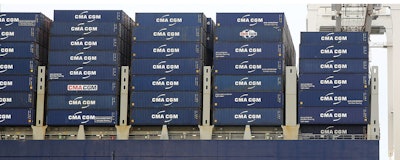 WASHINGTON (AP) — President Donald Trump threatened anew Monday to impose a "reciprocal tax" on countries that he says abuse their trade relationships with the U.S., promising to release more details this week.
But White House aides said no immediate action was expected.
Trump mentioned the plan during a White House meeting with a group of governors and local leaders who were invited to discuss the $1.5 trillion infrastructure proposal he sent to Congress on Monday.
Trump has floated the idea of a reciprocal tax in the past, promising to slap it on countries, including allies, that take advantage of the United States.
The president also addressed ongoing negotiations over the North American Free Trade Agreement and complained that Canada, which is a party to that trade pact along with Mexico and the U.S., doesn't treat the U.S. well. He also complained about Mexico's treatment of the U.S.
"We cannot continue to be taken advantage of by other countries," Trump said. "We cannot continue to let people come into our country and rob us blind, and charge us tremendous tariffs and taxes, and we charge them nothing. We cannot allow that to happen. We cannot allow it to happen."
He also complained about the U.S. losing "vast amounts of money" in trade with China, Japan, South Korea and other countries.
"They understand where I'm coming from," Trump said, adding that he's talked with all of those country and "they understand it."
"It's a little tough for them, because they've gotten away with murder for 25 years," he said. "But we're going to be changing policy."