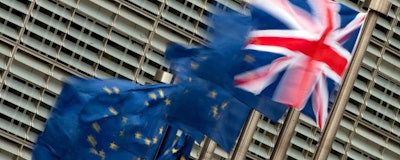 LONDON (AP) — Japan's ambassador to Britain said Thursday that Japanese businesses in the U.K. expect continued access to the European Union market after Brexit.
Koji Tsuruoka said Japanese firms "have a high stake" in the outcome of divorce negotiations between Britain and the EU.
Speaking after a meeting with Prime Minister Theresa May and Japanese business leaders at 10 Downing St., Tsuruoka said Japanese firms based in Britain counted on access to the EU market. He said "the question is whether the arrangements that will be reached between the two sides will allow the Japanese companies, who are willing and in some ways determined to continue to operate in the U.K., to allow them to make that happen."
He said Japanese companies were "watching very closely" the progress of Brexit negotiations.
Japanese government figures say some 879 Japanese companies employ 142,000 staff in Britain.
May and Treasury chief Philip Hammond met the ambassador and executives of major Japanese firms including Toyota, Mitsubishi, Panasonic and Nissan, whose car plant in Sunderland, England, employs 7,000 people.
Thursday's talks came amid growing anxiety among business leaders about the shape of Britain's upcoming departure from the EU because of uncertainty on what trade relations will look like.
Even as the March 2019 exit draws closer, the U.K. government remains divided over how close a relationship it wants to keep with the EU. May's Cabinet is divided between those who want to remain close to the EU's single market and customs union and those who want a clean break so Britain can strike new trade deals around the world.
After the meeting, May's office said Britain wanted to become "an even more attractive destination" for Japanese investment.
Downing St. said that after Brexit, "the U.K. and Japan will work quickly to establish a new economic partnership" based on a free-trade deal the bloc is finalizing with Japan.