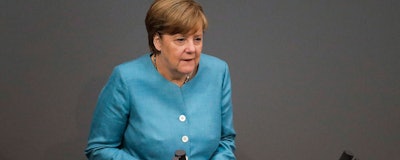 BERLIN (AP) — Europe is "more determined than ever" to make the Paris climate accord a success, German Chancellor Angela Merkel said Thursday, and insisted that the deal is not negotiable while predicting difficult talks on the issue at next week's Group of 20 summit.
Merkel also said she hopes for a "clear signal" in favor of free markets and the multilateral trading system from the July 7-8 meeting in Hamburg, arguing anew that protectionism can't solve the world's problems.
Merkel addressed Germany's parliament ahead of a meeting later Thursday with European participants in the G-20 summit.
The Trump administration's "America first" approach to trade and other issues has caused widespread concern elsewhere, as has its decision to withdraw from the Paris accord on climate change.
The European Union will implement swiftly its commitments under that deal, Merkel said. "Since the decision by the United States of America to leave the Paris climate accord, we are more determined than ever to lead it to success," she added.
She declared that "the Paris agreement is irreversible and it is not negotiable."
"We cannot expect easy talks in Hamburg" on the matter, Merkel said. "The disagreement is obvious, and it would be dishonest to gloss over it. I won't do that, in any case."
"As the G-20, we cannot ignore the challenge that climate change poses to all of us in the world," she said, adding that leaders must bear in mind the concerns of countries such as island nations most at risk from rising sea levels.
Merkel said the talks in Hamburg must "serve the substance and aims of the Paris accord."
More broadly, she said, "anyone who thinks that they can solve the problems of this world with isolationism and protectionism is making an enormous mistake."
She argued that the G-20 — a forum that rose to prominence in the wake of the global financial crisis — is needed more than ever because countries working together can change things far more effectively than with uncoordinated national policies.
"My aim is for the G-20 to send a clear signal for free markets and against isolation, and a clear commitment to the multilateral trading system," Merkel said.
Hamburg is mounting a huge security operation to protect the summit in the heart of Germany's second-biggest city.
"We know that the summit and the days before are a big challenge for the citizens of Hamburg," Merkel told lawmakers.
"We know that there will be protests, and that is more than legitimate in a democracy. But I hope ... that these protests will be peaceful."
The G-20 comprises Argentina, Australia, Brazil, China, Germany, France, Britain, India, Indonesia, Italy, Japan, Canada, South Korea, Mexico, Russia, Saudi Arabia, South Africa, Turkey, the United States and the European Union.
Also attending the summit will be the Netherlands, Norway, Spain, Guinea, Senegal, Singapore and Vietnam.