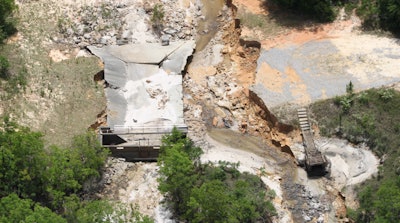 PENSACOLA, Fla. (AP) -- Residents of one flooded Panhandle neighborhood are blaming International Paper for their property damage.
The Pensacola News Journal reported Tuesday that residents of the Bristol Park neighborhood have filed a filed a lawsuit against the paper giant.
The residents claim a breach in a levee maintained by the company caused a wall of water to move through the neighborhood and left some homes with up to 5 feet of water inside.
According to the lawsuit, Bristol Park residents and some residents of nearby Ashbury Hills were in a flood zone area that did not require flood insurance.
The lawsuit claims International Paper is to blame because the company failed to release water from the levee, causing water to rush into the neighborhood.
"We're hearing the water came up to 5 feet in some houses and washed out all (residents') personal belongings," attorney J.J. Talbott told the newspaper.
In a prepared statement, the company sent it's condolences to residents but said the April 29 flood was unprecedented and damage to the neighborhood was not the fault of International Paper.
The company said the storm caused record water flows across the entire 48-square mile watershed.
"During and after the storm, the Pensacola mill continued to discharge to our pipeline, which bypasses the (Eleven Mile Creek) watershed. No part of the mill's waste treatment facility failed or collapsed during or after the storm event. We have fully communicated with both state and local agencies regarding the impacts of the storm on the Pensacola mill," according to the company's statement.