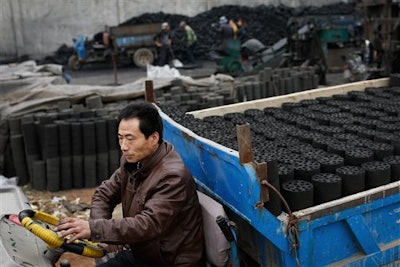 BEIJING (AP) -- China's government says it will open 80 projects in eight state-run industries to private and foreign investors as part of efforts to make its slowing economy more productive.
The announcement late Wednesday is the latest in a series of policy changes aimed at carrying out the ruling Communist Party's pledge in November to give entrepreneurs and foreign investors a bigger role in the state-dominated economy.
It made no mention of the politically volatile issue of whether private investors would be allowed any control over entities in newly opened industries such as oil and hydro power that previously have been deemed strategic. Other industries cited were wind power, natural gas storage and distribution, production of photovoltaic equipment for solar power, coal, railways and port operations.
Premier Li Keqiang said the Cabinet "decided to launch a number of projects to encourage participation of 'social capital' in a number of areas such as infrastructure to promote fair competition," according to the statement.
Li, the country's top economic official, said guidance on the role of foreign and private investors would be released as soon as possible.
Chinese leaders are trying to replace a growth model based on exports and investment that delivered three decades of explosive growth but is running out of steam. They want to nurture more self-sustaining growth based on domestic consumption.
At the same time, the ruling party wants to retain control of the economy even as entrepreneurs are given a bigger role.
Any attempt to give outsiders a voice in how state industries are run is likely to face opposition from party factions that rely on those industries as a source of money and jobs for supporters.
Economic growth has slowed steadily over the past two years as Chinese leaders try to nurture more self-sustaining domestic consumption. It declined in 2013 to 7.7 percent, the lowest full-year rate in two decades, and decelerated to 7.4 percent in the first three months of this year.
Li promised in a March speech to give markets "a decisive role" in allocating resources. That will require Beijing to overturn a system that supports state companies with monopolies and low-cost credit, energy, land and other resources.
In a reference to possible opposition, Li said in the speech that Beijing will need to "break mental shackles and vested interests."
Economists say the most urgently needed reform is an overhaul of China's state-owned banking sector, which lends mostly to government industry and gives little support to entrepreneurs who create new jobs and wealth.
Beijing has given no indication of plans for changes at state lenders but said in March that investors including Internet giants Alibaba and Tencent will be allowed to create China's first privately financed banks to serve entrepreneurs.
Wednesday's statement said the next round of industry opening will extend to oil and gas exploration, utilities, water and airports.
The possible limitations of such change were highlighted by the announcement this year of plans by state-owned Sinopec Ltd., a major oil company, to sell 30 percent of the unit that controls its filling stations to private investors.
Industry analysts say the unit, which operates 30,000 filling stations and 23,000 convenience stores, might be valued at up to $20 billion. But they noted Sinopec gave no indication outside investors would gain any control, leaving its operating practices unchanged.
The private sector accounted for 63 percent of China's investment last year, according to the government.
But in a reminder of state dominance in some fields, the Cabinet also said Wednesday that the government-run railway system would raise 150 billion yuan ($25 billion) this year through bond issues to finance investments.