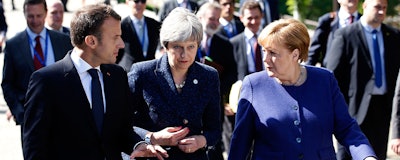 SOFIA, Bulgaria (AP) — The European Union has called on U.S. President Donald Trump's administration to stop threatening it with tariffs on steel and aluminum, saying Thursday it is prepared to discuss new trade incentives.
In March, Trump slapped tariffs of 25 percent on steel imports and 10 percent on imported aluminum, but granted the 28 EU countries a temporary exemption until June 1. He also temporarily exempted big steel producers Canada and Mexico, provided they agree to renegotiate a North American trade deal to his satisfaction.
"It's Europe's economic sovereignty, and what we are demanding is that we are exempted without conditions or time limits," French President Emmanuel Macron said in Bulgaria, where EU leaders have gathered for a summit with Balkans countries.
Convinced that the U.S. move breaks global trade rules, the EU has drawn up a list of "rebalancing" duties worth some 2.8 billion euros ($3.4 billion) to impose on U.S. products if it is not permanently exempt. It has vowed not to negotiate under threat.
"I don't think we have to consider this or that, when it contravenes the laws of international trade," Macron said.
But he added: "We can improve things, in a peaceful setting."
German Chancellor Angela Merkel echoed his remarks.
"We have a common position; we want an unlimited exemption, but are then prepared to talk about how we can reciprocally reduce barriers for trade," she told reporters in the Bulgarian capital Sofia.
Should the exemptions be dropped, the EU stands ready to deepen trans-Atlantic energy cooperation, notably on liquefied natural gas, improve reciprocal market access for industrial products and work together to reform the rules of the World Trade Organization.
"The EU is even ready to talk about trade liberalization with our American friends but only if the U.S. decides an unlimited exemption from steel and aluminum tariffs," said EU Council President Donald Tusk after chairing the summit.
The EU rejects Trump's assertion that the tariffs are needed for U.S. national security and sees them as protectionist measures designed to boost local businesses. Most EU countries are U.S. allies in NATO.
Trump's approach to tariffs combined with his unilateral withdrawal from the Iran nuclear agreement are costing Europe time and money, and some leaders are weighing whether a new approach is needed.
"The real geopolitical problem is when you have — not an unpredictable opponent or enemy — the problem is if your closest friend is unpredictable," Tusk said.
"I can agree with President Trump when he says that unpredictability can be a very useful tool in politics. But only against enemies or opponents. Unpredictability is in my opinion the last thing we need when you are friends."
___
Geir Moulson in Berlin and Raf Casert in Brussels contributed to this report.