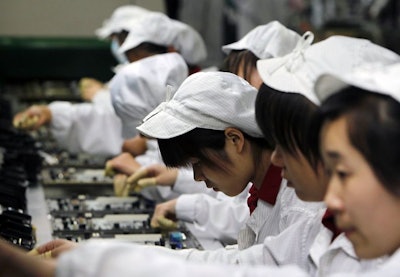 In order to meet president Donald Trump's pleas to have Apple products manufactured in the U.S., funds may need to be available for foreign investors.
Terry Gou, chairman of Foxconn, Apple's primary manufacturing partner, said in order for more electronics to be made in America, the U.S. government should offer incentives and tax breaks.
"Does the U.S. offer incentive programs for foreign investors? They'll need to pass bills first, and we'll need to wait for American authorities to make a decision first," Gou said after a groundbreaking ceremony in China last week, Business Insider reports.
Earlier this year it was reported that Foxconn was considering investing $7 billion in a U.S. factory. If built, the factory would employ 30,000-50,000 people. However, Business Insider reports that Gou suggested the potential flat-panel screen U.S. factory's fate will depend on the government addressing "investment issues" and that he wasn't sure of American officials could move fast enough to attract foreign investors.
"I am concerned as to whether the U.S. can resolve all the investment issues in only a few months' time," Gou said.
Gou also commented that America lacks the skilled labor and comprehensive supply chain the display industry requires.
However, Gou told reporters that there should be conciliation between America and China.
"It is in the interest of the entire humanity that China and the U.S., the top two economies in the world, can get along peacefully," Gou said. "They are in the process of gambling with each other, and I can foresee that the two will eventually work together to grow [their] economies and deliver beneficial outcome for many. If they don't, then everyone will be losers."