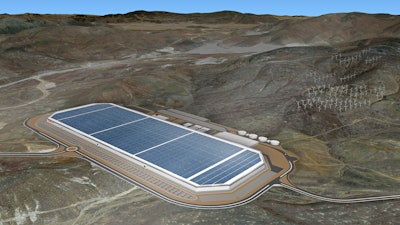 Europe may soon build a battery factory that rivals Tesla's massive Gigafactory.
Peter Carlsson, a former executive from Tesla, is reportedly attempting to raise $4 billion to build a factory that could meet Europe's growing demand for electric vehicles.
"We foresee a major deficit of lithium ion batteries within a few years, with limited current and planned capacity in place in Europe. There is a market window open. We have a solid business plan in place that enables us to produce high quality batteries at an affordable cost," Carlsson said.
According to reports, Carlsson is looking for sites in his home country, Sweden, that are at least 500,000 to 700,000 square meters. Carlsson's company, Northvolt, hopes that the new factory will compete with Tesla's Gigafactory in scale with an annual cell production equivalent to 32 gigawatt hours when the plant is fully operational in 2023.
The company said it plans to tap into an expanding market for batteries that goes beyond the auto industry and includes energy storage and heavy machinery.
Carlsson previously managed Tesla's supply chain before leaving to return to Sweden. Northvolt is reportedly putting together a "core team" of industry experts to work alongside the company's senior executives who came from companies including Renault-Nissan, Panasonic, ABB and Sony Ericsson.
The company plans to automate most of the operations in the plant, but said it would likely still need 2,500 to 3,000 employees. Many of the key ingredients needed for battery production — such as nickel, cobalt and lithium — could be sourced from the nearby Nordic region.
It might not be long before the plant has competition close by. According to Reuters, Tesla plans to build up to three more Gigafactories, including one in Europe.
But Carlsson dismissed the idea that Northvolt and Tesla could be elbowing each other for room in the same market.
"We are not competing with Tesla because they are not going to sell batteries, but we do share a very strong vision which is that it is hugely important to accelerate our society from its addiction to fossil fuels," he said.