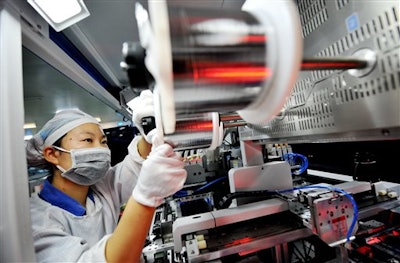 HONG KONG (AP) — Chinese manufacturing contracted for the 10th straight month in December as demand remained weak and factories trimmed staff and output, a private survey showed Monday.
The Caixin/Markit index, based on a survey of factory purchasing managers, fell to 48.2 in December from 48.6 the previous month.
The index uses a 100-point scale with numbers above 50 indicating expansion.
It's the latest sign of the headwinds the world's No. 2 economy faces as a new year unfolds. Chinese growth has slowed sharply over the past five years as leaders in Beijing try to wean the economy off reliance on trade and investment and focus it instead on more self-sustaining private consumption and services.
However, it's proving to be a tough transition. Growth in the quarter ending in September fell to a six-year low of 6.9 percent, a tick down from 7 percent in each of the two preceding quarters even after policymakers cut interest rate cuts repeatedly and unleashed other stimulus measures
China's manufacturing industries are facing soft demand from customers as global growth remains weak.
Caixin's subindex measuring production fell for the seventh time in eight months, driven by a decline in new orders, which are seen as an indicator of overall demand.
"This shows that the forces driving an economic recovery have encountered obstacles and the economy is facing a greater risk of weakening," said He Fan, Caixin Insight Group's chief economist.
"The government needs to pay more attention to external risk factors in the short term and fine tune macroeconomic policies accordingly so the economy does not fall off a cliff," he said.
A separate survey by an official group released Friday found factory activity ticked up slightly from its lowest level in three years but was still contracting.