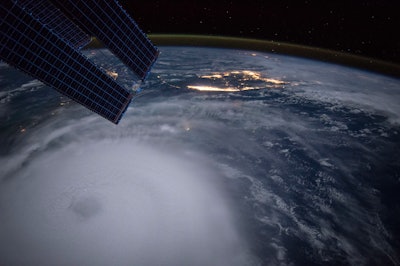 Some stories and innovations are best captured and explained through a lens, including the magnitude of a hurricane as viewed from space and the creation or a new ultra-lightweight structure that could change the future of aircraft.
Here's a countdown of the top 10 photo-driven stories that you couldn't take your eyes off of. Click the headlines to view the full story.
In the first update to the Long Island Railroad in 100 years, a new commuter rail is being built 14 stories beneath Grand Central Terminal in New York City. The project —which displaced about 1.4 million cubic meters of rock, much and other material — is scheduled to be completed by 2022.
London's Crossrail will see its first trains in 2017 and should be fully functional — transporting 1.5 million people daily — by the end of 2019. Workers dug 26 miles of tunnels for the Crossrail, which is Europe's largest infrastructure project, and are now outfitting the tunnels with ventilation, power and more, via custom-made gantries.
During research to develop a supersonic aircraft suitable for civil transportation, NASA captured images of supersonic shock waves caused by T-38C plane cutting through the air.
In August, Los Angeles dumped a truckload of shade balls into the Los Angeles reservoir amid a historic statewide drought. The balls, at 36 cents apiece, are expected to protect 300 million gallons of water from evaporation.
A 240-foot unmanned surveillance blimp broke loose from a Maryland military facility in October, drifting 150 miles over the course of 3.5 hours. The craft eventually deflated on its own, bringing an end to the tale of the wayward blimp.
Boeing created a new metal-based structure that's 99.99 percent air and has walls 1,000 times thinner than human hair. The lattice structure will likely be used to create lighter, more fuel-efficient aircraft.
In time for Pearl Harbor Day, new images were released of a U.S. Navy seaplane sunk during the attack 74 years ago. The plane, resting 20 miles east of Pearl Harbor, had a 100-foot wingspan and could hold eight men and four 500-pound bombs.
The 51st annual air show was held in June and served as a battleground for military and commercial sales, a competition waged mainly between Boeing and Airbus.
Scott Kelly, the NASA astronaut three-quarters through a full year spent in space, captured a stunning image of the hurricane that ravaged Atlantic waters in October. The Category 4 storm passed over the Bahaman islands and led to historic floods in South Carolina.
Miles of Santa Barbara's coastline were coated in May after a ruptured Plains All American Pipeline released more than 20,000 gallons of oil into the water and left even more on land. First estimated said about 105,000 gallons were spilled in total, but later calculations put the amount nearer 143,000 gallons. Cleanup costs surpassed $69 million.
Which photos do you think are the most memorable? What would you add to the list? Comment below or tweet @MNetKatie.