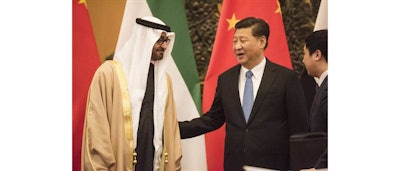 DUBAI, United Arab Emirates (AP) — China and the United Arab Emirates have agreed to launch a $10 billion joint strategic investment fund.
Emirati state news agency WAM said the accord was one of several bilateral agreements signed in Beijing on Monday during a visit by the Abu Dhabi crown prince, Sheikh Mohammed bin Zayed Al Nahyan.
Abu Dhabi's government-backed Mubadala Development Company, China Development Bank Capital and China's State Administration of Foreign Exchange will manage the fund. Each country would contribute equal funding to the project.
Emirati Minister of State Sultan al-Jaber says the fund will support development in sectors of mutual interest, such as conventional and renewable energy, infrastructure, technology and advanced manufacturing.