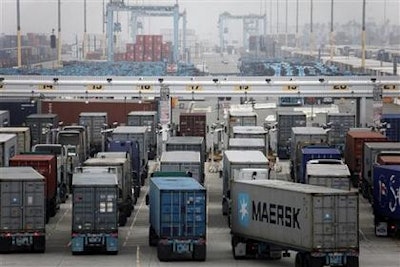 The U.S. trade deficit widened in October, the Commerce Department said Friday, as exports of U.S. goods fell to the lowest level in more than four years.
According to the AP, the trade deficit, the difference between exports and imports, widened 3.4 percent in October to $43.9 billion, compared to a revised $42.5 billion deficit in September. Exports of goods and services fell 1.4 percent to $184.1 billion while exports of just goods dropped an even bigger 2.4 percent to $123.8 billion, the lowest level since June 2011.
The AP says one of the key drivers is that U.S. companies have been hurt this year by a rising value of the dollar, which makes American products more expensive on overseas markets and foreign goods cheaper and thus more attractive to American consumers. U.S. producers have also had to confront economic weakness in key overseas markets such as Europe and China.
Industry stakeholders are hopeful that the results of the latest move by lawmakers may impact the deficit going forward. Congress on Thursday overwhelmingly passed a $305 billion transportation bill that would also reauthorize the U.S. Export-Import Bank after a five-month hiatus.
The bank makes low-interest loans and loan guarantees to facilitate foreign purchases of American-made goods. The bank's loans overwhelmingly go to three industrial giants conducting business abroad: Boeing, Caterpillar and GE.
Critics accuse the program of "crony capitalism," but proponents note that those companies support huge workforces and massive supply chains, as well as the billions in economic activity generated by the bank at no expense to taxpayers.
Honeywell Chairman and CEO Dave Cote went on record praising the move in a statement released this morning: "I applaud Congress for supporting U.S. manufacturers and workers by reauthorizing the Export-Import (Ex-Im) Bank. Ex-Im supports U.S. jobs and is critical to ensuring that America remains competitive. With passage of Ex-Im, U.S. businesses will be better equipped to meet the challenges of a global economy and to reach the 95 percent of consumers who live outside our country. Reauthorization is the right thing to do for our economy," said Cote.