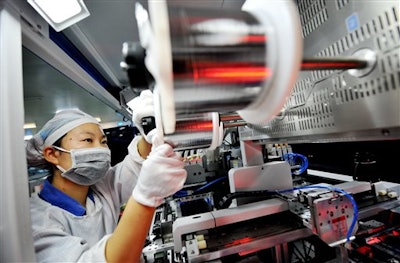 HONG KONG (AP) — Chinese manufacturing was at its weakest in more than three years in November despite stimulus measures to bolster the world's No. 2 economy while service industries improved, according to an official survey released Tuesday.
The manufacturing index based on a survey of factory purchasing managers slipped for the fourth straight month, falling to 49.6 in November from 49.8 the previous month.
The index is based on a 100-point scale, with the 50-point mark separating expansion from contraction.
The latest data highlights the two-speed nature of China's economy as officials try to shift the economy's focus from manufacturing to services in a transition that's proving to be rocky. Growth in the latest quarter fell to a six-year low of 6.9 percent, slightly down from 7 percent in each of the two preceding quarters after repeated interest rate cuts and other stimulus measures
Services, which have helped offset the weakness in manufacturing, showed some improvement. The official measure covering China's service industries rose to 53.6 from 53.1.
A sub-index covering new manufacturing orders, seen as an indicator of overall demand, fell to 49.8 from 50.3.
Separately, the private Caixin/Markit purchasing managers' index for manufacturing released the same day also remained at a level indicating contraction, although it improved to 48.6 from 48.3.
The official index, compiled by the Chinese Federation for Logistics and Purchasing, includes more of the country's larger, state owned enterprises while the Caixin survey is weighted to smaller, private enterprises in China's manufacturing industry, which employs tens of millions.
ANZ Bank economists Liu-Li Gang and Louis Lam said the official manufacturing index was consistent with other data released last month that showed factory output weakening and reinforce the need for Beijing to roll out further stimulus measures.
"With soft growth momentum and deflation pressures creeping up, we expect the authorities to further ease monetary policy and continue to implement an expansionary fiscal policy in order to prevent further slowdown of the economy in 2016," they said in a report.