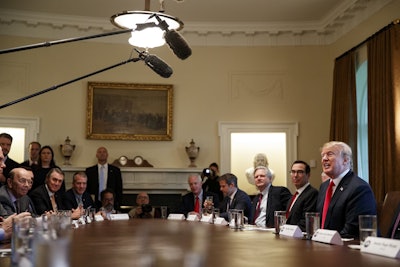 President Donald Trump met Wednesday with Republican lawmakers after the Senate moved to block a White House plan to allow Chinese telecom giant ZTE Corp. to buy component parts from the U.S.
ZTE is accused of violating trade laws by selling sensitive technologies to North Korea and Iran. The administration announced an agreement with ZTE earlier this month but has run into opposition in Congress.
The public part of Trump's meeting with 16 Republican lawmakers focused heavily on the debate over the separation of immigrant children from their families at the southern border. But they also discussed the dispute over the agreement involving the Chinese company. Opponents in Congress have argued that ZTE poses a national security threat to the U.S. and Trump's deal with the telecom company was too lenient.
The Senate on Monday approved a defense package with a provision that would reverse the ZTE agreement. The House previously approved the bill without the ZTE language, prompting the administration to seek a pathway to maintain the White House agreement with the Chinese firm in a joint House-Senate conference committee.
The scrutiny over the ZTE agreement comes as the Trump administration has been engaged in a sweeping trade dispute with China. Trump has ordered tariffs on $50 billion in Chinese goods in response to Beijing's forced transfer of U.S. technology and intellectual property theft.
Those tariffs are set to start taking effect July 6, and China has matched them with tariffs on U.S. exports. Earlier this week, Trump threatened to impose duties on up to $400 billion more in Chinese goods if it doesn't reduce its trade surplus with the U.S. and further open its markets. China has warned that it will retaliate.
Sen. John Cornyn, R-Texas, said after the White House meeting that the administration was trying to differentiate between U.S. government procurement and non-government procurement. "Obviously government procurement is much more sensitive when it comes to national security," Cornyn said after the meeting. "A House version of the bill barred ZTE from U.S. government contracts.
Senate Democratic Leader Chuck Schumer of New York said Republican senators shouldn't "water down or back off the Senate's strong language on ZTE in the defense bill." He said protecting jobs and national security "must remain paramount and not something that we can compromise on."
__
Associated Press writer Alan Fram contributed.