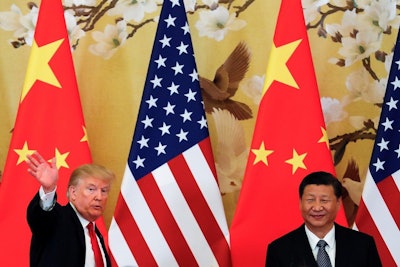 China on Tuesday threatened "comprehensive measures" in response to U.S. President Donald Trump's new tariff hike, raising the possibility Beijing might target operations of American companies.
Trump's announcement fueled fears that economic losses, limited so far to companies hit by U.S. or Chinese tariff hikes, might spread if the dispute chills global trade.
Global stocks fell after Trump's announcement. China's market benchmark dropped 3.8 percent while Hong Kong's lost 2.8 percent. In Europe, Germany's main index was off 1.3 percent and France's lost 1.1 percent.
The Commerce Ministry criticized Trump's order for new tariffs on $200 billion of Chinese goods as blackmail. In a forceful statement, it said Beijing was ready to "defend the interests of the Chinese people and enterprises."
If the tariff hike goes ahead, "China will have to adopt comprehensive measures that combine quantity and quality," the statement said.
It gave no details, but China's lopsided trade balance with the United States means Beijing doesn't import enough American goods to stick with its strategy of matching the scale of Trump's tariff increases.
China responded to the U.S. announcement Friday of a 25 percent tariff on $34 billion of Chinese goods by imposing an identical charge on the same amount of American goods. But China's imports from the United States last year totaled $153.9 billion. That would leave about $120 billion available for a tariff hike, falling short of Trump's $200 billion target.
The mention of "comprehensive measures" suggests Beijing might go beyond tariffs, said Jake Parker, vice president for China operations of the U.S.-China Business Council. He asked whether that might include delaying or denying licenses required by U.S. companies.
"That seems to open up a new front," Parker said.
China's heavily regulated economy also gives officials the option of tying up companies with tax, anti-monopoly or other investigations.
"China could target U.S. firms through tax and regulatory policies," Citigroup said in a report.
The dispute is part of broader U.S. complaints about global trading conditions that have prompted Trump to raise duties on steel, aluminum, washing machines or solar panels from Canada, Europe, Japan and South Korea.
Economists warn Washington might be undercutting its negotiating position by alienating potential allies.
Tariff hikes imposed so far by Trump affect a total of $109 billion of imports, according to Morgan Stanley. It said with retaliatory tariffs imposed by American trading partners added in, the total rises to $181 billion, or 1 percent of global trade.
The risks of "a more meaningful impact on global trade and growth have increased," Morgan Stanley economists said in a report.
The United States and China have the world's biggest trading relationship but official ties are increasingly strained over complaints Beijing's technology development tactics hurt American companies.
Beijing has offered to narrow its politically volatile trade surplus with the United States but has resisted changing development plans its leaders see as a path to prosperity and to restoring China's rightful role as a global leader.
Trump's tariffs target goods the White House says benefit from industrial policies that China's trading partners say violate its market-opening pledges.
The Trump administration also has threatened a tariff hike on another $100 billion of imports in its parallel dispute over Beijing's trade surplus. It has yet to say when that might take effect.
Europe, Japan and other trading partners raise similar complaints. But Trump has been unusually direct about threatening to disrupt such a large volume of Chinese exports.
"Beijing will not panic in response to Trump's latest threat, but will be deeply concerned," Eurasia Group said in a report.
It said the Chinese government is trying to find out whether Trump has the "political strength" to carry out his threats and is pressuring U.S. interests to force him to compromise.