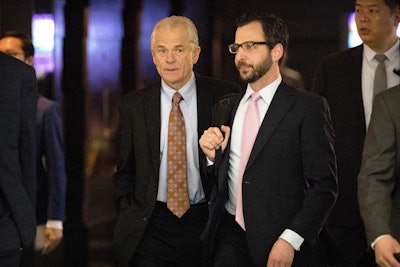 U.S. Treasury Secretary Steven Mnuchin sounded a positive note Friday about talks between U.S. and Chinese officials ahead of a second day of meetings aimed at easing tensions that have taken the world's two largest economies the closest they've ever come to a trade war.
"We're having very good conversations," Mnuchin said in a brief comment to reporters at a Beijing hotel as he and other members of the U.S. delegation set off for more meetings with the Chinese.
Analysts say chances for a breakthrough appear slim given the two sides' intensifying rivalry in strategic technologies, where China lags behind the U.S.
The Chinese side has not commented publicly on the specifics of the talk, though a foreign ministry spokeswoman said the talks should be made on the basis of mutual respect and aim for mutually beneficial outcomes.
It's normal for the U.S. and China to have differences on trade, the state-run China Daily newspaper said in an editorial Friday. But the fact they're ready to "exchange blows shows how niggly those differences have become. And how difficult it will be for the two sides to walk away happy."
An acceptable agreement could be possible "if both sides have realistic expectations of their give and take," the paper added. Failure "would herald a slugfest of tariffs that would leave global trade reeling," it said.
The dispute has deepened as China has stepped up efforts to overtake western industry leaders in advanced technologies, especially for semiconductors, the silicon brains required to run smartphones, connected cars, cloud computing and artificial intelligence.
Under Xi, a program known as "Made in China 2025" aims to make China a tech superpower by advancing development of industries that in addition to semiconductors includes artificial intelligence, pharmaceuticals and electric vehicles. The plan mostly involves subsidizing Chinese firms. But it also requires foreign companies to provide key details about their technologies to Chinese partners.
U.S. President Donald Trump is seeking to cut the chronic U.S. trade deficit by $100 billion and gain concessions over the policies that foreign companies say force them to share technology in order to gain market access.
His administration has threatened to impose new tariffs on roughly $150 billion in Chinese goods. That prompted China to announce its own tariffs on U.S. goods, and Beijing also looks unlikely to cede any ground on its strategic blueprint for technology.
"The Made in China 2025 industrial policy concerns China's long-term development plan, so the overall direction won't change at all," said Yu Miaojie, professor at Peking University's National School of Development. Yu says China would rather cut the trade deficit by importing high-tech products from the U.S. that are currently tightly restricted.
The state-run Global Times newspaper said Thursday in a commentary that it's "our sovereign right to develop high-tech industry and it is connected to the quality of rejuvenation of the Chinese nation. It will not be abandoned due to external pressure."
The U.S. delegation is due to leave Beijing on Friday evening.
Trump said on Twitter at the start of the talks that he expected relations to stay on an even keel.
"Our great financial team is in China trying to negotiate a level playing field on trade!" he tweeted. "I look forward to being with President Xi in the not too distant future. We will always have a good (great) relationship!"
Experts have noted rival views within the U.S. delegation. That could prevent an early resolution of the dispute, which could lead the U.S. to move ahead on the first round of tariffs.
"The team is too ideologically different to come to a unified view so they will bring China's concerns back to the White House for resolution," said Yukon Huang, senior fellow in the Asia program at the Carnegie Endowment for International Peace.
Huang said the key question is whether Trump wants to keep up the pressure on China. "All evidence suggests that this is his inclination even if his thinking on trade is largely misguided," Huang said. "Thus the next round of tariffs on $50 billion imports is likely to proceed but what comes next is unclear."
The group led by Mnuchin includes Commerce Secretary Wilbur Ross, U.S. Trade Representative Robert Lighthizer and White House trade advisor Peter Navarro, a fierce China critic. Liu He, President Xi Jinping's top economic adviser, has headed the Chinese side in the talks.
It was unclear if the group would be meeting with President Xi Jinping or with Premier Li Keqiang. A meeting with Xi might suggest signs of progress, analysts said.
____
Chan reported from Hong Kong. AP reporters Gillian Wong and Emily Wang and researcher Yu Bing contributed to this report from Beijing.