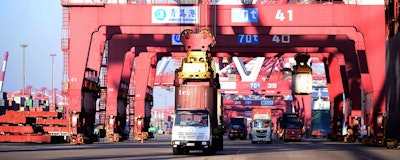 BEIJING (AP) — China's export growth accelerated in January amid mounting trade tension with Washington while imports surged as factories stocked up ahead of the Lunar New Year holiday.
Exports rose 11.1 percent compared with a year earlier to $200.5 billion, up from December's 10.9 percent growth, trade data showed Thursday. Exports surged 36.9 percent to $180.1 billion, up from the previous month's 4.5 percent.
China's politically sensitive trade surplus with the United States widened by 2.3 percent from a year ago to $21.9 billion, while its global trade gap narrowed by 60 percent to $20.3 billion.
"Export growth remained robust in January, indicating steady global demand momentum," said Louis Kuijs of Oxford Economics in a report.
"While we expect the favorable external setting to continue to support China's exports, rising U.S.-China trade friction remains a key risk," said Kuijs. "We expect the U.S. administration to scale up on measures impeding imports from China."
Beijing's steady accumulation of multibillion-dollar trade surpluses with the United States has prompted demands for import controls.
President Donald Trump's administration has increased duties on Chinese-made washing machines, solar modules and other goods it says are being sold at improperly low prices. It is due to announce results of a probe into whether Beijing improperly pressures foreign companies to hand over technology, which could lead to further penalties.
Exports to the United States rose 12.1 percent in January from the same time last year to $37.6 billion while imports of U.S. goods rose 26.5 percent to $15.7 billion, according to the General Administration of Customs of China.
Exports to the European Union, China's biggest trading partner, rose 11.6 percent to $33.7 billion while purchases of European goods rose 44.4 percent to $23.8 billion. China reported a $9.9 billion trade surplus with the EU but that was down 29.8 percent from a year earlier.
Chinese authorities have accused Trump of threatening the global trade regulation system by taking action under U.S. law instead of through the World Trade Organization. Beijing has filed a challenge in the WTO against Washington's latest trade measures.
"We oppose this unilateralism and protectionist approach and hope the United States will deal with it prudently," said a Ministry of Commerce spokesman, Gao Feng, at a regular news briefing on Thursday.
Beijing announced an anti-dumping investigation last weekend of U.S. sorghum exports. In response to suggestions the move was retaliation for Trump's increase tariffs, Chinese government spokespeople say it is a normal regulatory step.
"I emphasize this is a normal case of trade remedies," said Gao.
"We will carry out trade remedy practice strictly in accordance with the WTO rules and China's relevant laws," he said. "We also hope that WTO members concerned will abide by international rules and properly resolve their economic and trade differences through dialogue and cooperation."
January's import growth was driven in part by demand from factories that are restocking before shutting down for the two-week holiday. Each year, the holiday falls at different times in January or February, distorting trade data.
Forecasters expect Chinese demand to weaken this year as Beijing tightens controls on lending to slow a rise in debt. That is a blow to its Asian neighbors, for which China is the biggest export market, and for suppliers of iron ore and other commodities such as Brazil and Australia.
"While we still expect import growth to cool this year, after the rapid expansion in 2017, we do not expect a sharp slowdown," said Kuijs. "Key downside risks to domestic demand stem from a more pronounced-than-expected impact of the planned financial tightening and slower real estate activity."