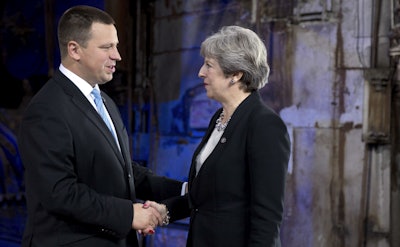 Britain would be hurt more than the European Union if it leaves the EU without a trade deal, according to a study released Sunday amid suggestions that Britain should walk away from Brexit talks because of the inflexibility of the bloc's negotiators.
Four of Britain's key manufacturing industries — automobiles, technology, health care and consumer goods — would lose 17 billion pounds ($23 billion) of exports annually if trade between the two sides reverts to World Trade Organization rules, according to the study by international law firm Baker McKenzie.
While the EU accounts for 49 percent of British exports by the four industries, Britain buys just 9 percent of the goods shipped abroad by the same sectors in the EU, the study found.
"We have heard a lot about how much Europe exports to the U.K., for example, in the automotive sector," Ross Denton, a Baker McKenzie partner who specializes in trade issues, SAID. "That may be true in numerical terms, but when you look at this as a percentage of their trade, you can clearly see that the EU exports a lot more broadly, to a whole host of other markets, and consequently, it is far less dependent on the U.K. as a market than the U.K. is on it."
As a member of the EU, Britain currently enjoys tariff-free trade with the EU's market of more than 500 million people.
Some leading members of Prime Minister Theresa May's Conservative Party suggested last week that Britain should end its Brexit talks with the EU if there is no concrete progress by Christmas.
The government should also be clear that it is prepared to allow WTO rules to take effect on the day Britain leaves the EU — making a so-called "hard Brexit" — to give clarity to businesses and investors who are planning for the future, according to the Leave Means Leave campaign.
"Brussels cannot be allowed to boss Britain around," co-founder Richard Tice said. "It's time we showed how ready we are to walk away."
The Baker McKenzie study, produced in conjunction with the consulting firm Oxford Economics, found that WTO rules would result in tariffs and trade barriers such as increased paperwork that would drive up the cost of British goods and force EU consumers to look for alternatives.
There is also a "significant risk" that U.K.-based manufacturers will relocate to EU member countries after Brexit, because many of them are owned by foreign investors, Baker McKenzie said.
More than half of the companies that make up Britain's automotive industry and 44 percent of its health care sector are owned by non-EU parent companies, according to the study.
"These companies were likely motivated to base their operations in the U.K. because of the single market access it offered and could seek to relocate if that market access is revoked," the report said.
May's government wants to negotiate a free trade deal that would preserve similar access for British companies after Brexit. But progress has been slow in the face of EU demands that Britain resolve questions about its financial commitments to the bloc, the future status of the Ireland-Northern Ireland border and citizens' rights before there is any discussion of future relationship terms.
EU leaders are expected to decide during an Oct. 19-20 summit whether there has been "sufficient progress" in the negotiations to move onto trade issues.
If Britain doesn't manage to negotiate a trade deal with the EU, it could try to offset the projected losses by increasing trade with other countries.
The U.S. and China — the world's two largest economies — are the most important places for Britain to expand trade, followed by Japan, Canada and Korea, Baker McKenzie said.
Britain would have to increase exports to these countries by 60 percent to make up for shipments to the EU that would be lost under WTO rules, the law firm said. To meet this goal Britain must negotiate a series of free trade deals, but it can't do so as long as it is a member of the EU.
"The UK is caught between a rock and a hard place on Brexit," Samantha Mobley, Baker McKenzie's London chief for EU and trade issues, said. "Our data shows that the U.K. needs to begin the very lengthy process of negotiating free trade agreements with third country markets now in order to mitigate the cliff-edge effect of the fall in trade in case no EU agreement kicks in immediately."