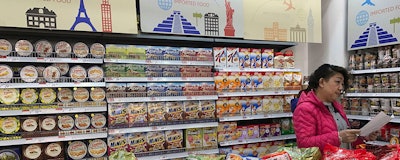 BEIJING (AP) — A business group urged China on Tuesday to carry out promises to open its economy and warned that inaction might fuel a backlash against free trade amid mounting U.S. and European criticism.
The European Union Chamber of Commerce said in a report that Beijing is backtracking in some areas, including by imposing new restrictions on food imports, express delivery and legal services. It proposed hundreds of possible changes to open the state-dominated economy wider or simplify rules in fields from cosmetics to medical devices.
"The current lack of reciprocity in market access is becoming politically unsustainable," the European chamber president, Mats Harborn, said at a news conference. "We are worried that if this is not quickly changed, there will be a backlash against economic globalization."
The chamber's American counterpart and other groups have issued similar appeals.
Beijing faces mounting complaints from Washington and the European Union about its trade surpluses and barriers to foreign acquisitions of Chinese assets while its own companies are buying foreign brands and technology.
On Monday, the U.S. trade representative, Robert Lighthizer, complained in a speech in Washington that Chinese efforts to create industrial champions and induce foreign companies to hand over technology threaten the world trading system.
President Xi Jinping, who took power in 2012, and other leaders have promised to give market forces a bigger role, treat foreign and Chinese companies equally and reduce the dominance of state industry. But reform advocates complain little has been done to carry out those pledges.
A foreign ministry spokesman, Lu Kang, defended Beijing's trade record and said it has abided by its market-opening commitments under the World Trade Organization.
"China stays committed to the opening up and reform and lets the market play a decisive role in the allocation of resources," Lu said at a regular briefing.
China is a key market for autos, aircraft, smartphones, cosmetics and other goods. But Beijing bars foreign companies from fields including finance, telecoms and utilities. In others, companies are required to work through local partners that might become competitors.
The European chamber report noted the Organization for Economic Cooperation and Development ranks China 59th out of 62 countries in terms of openness to foreign direct investment.
It appealed for changes in fields from aerospace to cosmetics, including opening more industry segments, easing limits on foreign ownership stakes in companies and simplifying regulation.
The president of the European Union's governing body last week announced plans to introduce a screening mechanism for foreign investments — a measure widely seen to be directed at Beijing.
"It seems like it is a well-balanced proposal so far, and we look forward to seeing the discussion," Harborn said.
Also last week, U.S. President Donald Trump blocked a Chinese-financed purchase of a U.S. semiconductor maker, prompting suggestions Washington might tighten scrutiny of future deals.
American authorities also are investigating whether Beijing should face penalties for pressuring companies to hand over technology in exchange for market access. A survey earlier by the U.S.-China Business Council found 20 percent of companies that responded said they were asked to transfer technology within the past three years.
___
European Union Chamber of Commerce in China: www.europeanchamber.com.cn