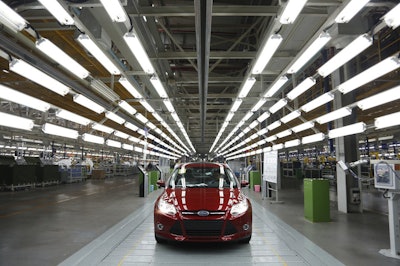 Ford reportedly hopes to capitalize on the growing luxury auto market in China by manufacturing Lincoln SUVs in the country.

The Wall Street Journal reports that Lincoln will begin producing vehicles in Chongqing — located in southwestern China — by the end of 2019.

Bloomberg last year reported that Ford was in discussions with Changan Automobile Group about establishing a Lincoln manufacturing presence in China, which executives believed could become the brand's largest market by the end of the decade.
SUVs are particularly popular in China, and U.S. luxury brands are also growing as an alternative to the German automakers that long dominated the market.

Lincoln sales roughly tripled in the country last year, and the Journal noted that Cadillac's Chinese sales eclipsed its U.S. sales for the first time in 2016 as it opened a new factory in Shanghai.

Ford officials said that the company generally attempts to produce vehicles in the same markets where they're sold, but Lincoln cars would still be exported to China — where they face a steep tariff — after the Chongqing plant opens.